Network Management Tools: Increase Profits with Master Stations and Remote Telemetry Units (RTUs)
Network management tools provide assistance as you work to keep your mission-critical network online. This helps to keep your expenses in check. It also is very common for network management tools to increase your revenues by improving service reliability. If your service is online nearly 100% of the time, your customers don't have much reason to consider switching to a competitor or simply cancelling service.
Together, increased revenues from high reliability and reduced maintenance and emergency costs are a winning combination that yields increased profits.
This is especially important nowadays. Think about it. Your customers have more intelligence today about alternative services than ever before. New technologies give rise to competition where it never existed before (just look at what has happened to landline phones in the era of the reliable cellular phone).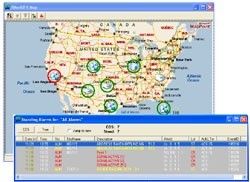 T/GFX software is a software-based network management tool
that makes remote monitoring and control much more intutive.
Network management tools protect you in this new climate by helping you to stop network problems (like a failed device or a low site battery level) before they can grow into service-affecting problems. Think about network outages that have occurred at your company. Have they been the result of willfully damaging intent, or simply a lack of situational awareness. In most cases, you and your coworkers are honestly trying to keep everything running smoothly. Superior tools for network management will allow you to see what's happening in your network on a minute-by-minute basis, so you can be proactive rather than reactive.
What's more, high-quality network management tools also reduce the cost of keeping your network online. Proactive trips to remote sites, made only when necessary to fix real problems, are just a tiny sliver of the costs associated with picking up the pieces after a major failure.
Network management tools fall into two basic categories. On one hand, you have master stations. On the other, you have remote telemetry units (RTUs or alarm remotes). Your master station will be the central player, and only one is typically required (multiple can be useful for either redundancy, multi-tiered monitoring of massive networks, or both). Alarm remotes, although much smaller and less expensive than your central master, are much more numerous and durable. That's because they must be deployed at your remote sites, which can experience some very extreme conditions depending on your local geography.
One of the most important features of a central master station is the ability to provide you with situational awareness, especially during a crisis. A master station that displays alarms on geographic maps is especially helpful. Understanding a specially formatted list of alarms, even if they are conveniently color-coded, is much less intuitive than viewing alarms on an overhead map of your network's region. Therefore, a master station that can display alarms on a map reduces the training requirements you have for your staff.
Alarm remotes also need to play their part in your collection of effective network monitoring tools. Provided that your network is large enough to justify a central master station, your alarm remotes will typically report alarms via a standard protocol. If you have a smaller network, you'll probably want to purchase alarm remotes that can notify you directly without the need for a central master at all. The most common methods for direct alarm notifications in network management scenarios are e-mail messages (either sent to your smartphone or to your desk during normal business hours) and phone messages (either a text message or a synthesized/recorded voice message).
Examples of Network Management Tools
Although its complete list of capabilities is much too broad for the scope of this article, a brief discussion of T/Mon will highlight the advantages of selecting the right central alarm master for network management applications.
The T/GFX graphical interface displays alarms on geographic maps, giving your NOC technicians and operators an intuitive view of your current network health and status. Once a problem is discovered, any of the multiple concurrent users may "drill down" through multiple map layers to reach a specific site. At that point, it's common to have previously uploaded photographs of your equipment racks into T/GFX. Then, you can place icons for individual alarm points on top of the photo of each piece of network equipment. This practice of uploading custom photographs that match exactly what the technician will see upon arriving at the site continues the intuitive experience that began with geographic maps and color-coded icons.
While T/Mon is an excellent central master station, it's only as powerful as the network management tools deployed at your individual remote sites that report alarms back to the T/Mon.
Of the many alarm remotes that fall into this category, the NetGuardian 216F is probably one of the most versatile. The basic model has 16 discrete inputs, a pair of control relays, and a pair of analog inputs. Control relays allow you to remotely control site equipment like backup generators and power beacon lights. Analog inputs accept either voltage or current input from external sensors. Temperature and humidity are the two most common values measured with external sensors at remote sites with sensitive electronic equipment.

This back panel of the NetGuardian 216F illustrates its role as a combination network management and LAN routing tool.
Although every model in the NetGuardian 216 family supports LAN communication using SNMP protocol, some models also have alternative transport capability. The NetGuardian 216T is capable of communicating back to your central office using a simple T1 connection. Both FrameRelay and PPP protocol are supported.
In a similar fashion, the NetGuardian 216F has a pair of SFP ports that accept standard SFP modules for connection to a fiber ring.
With either the NetGuardian 216T or the NetGuardian 216F, a built-in 7-port 10/100 switch delivers LAN to site devices that would otherwise have no way of connecting. When you consider that a LAN interface card from your transport manufacturer can easily exceed the cost of the NetGuardian, which also performs the remote monitoring and control functions exclusive to network management tools.
Even by looking at specific products, there's only so much you can learn about network management tools without looking at specific examples of projects in the recent past. Here are a handful of case studies describing how network management tools are used in industries like yours...
Network Management Tools as Feature in Case Studies:
On a recent conference call, we discussed a project revolving around network management tools with a phone company. In attendance on the call were Sam, Travis, Jennifer, and Dennis.
For this project, they needed to:
Migrate from the older technology to state of the art platform to maintain peak operations.
Create the ability to consolidate all alarm SNMP alarm sources including their upcoming Metaswitch into a single monitoring & notification platform.
Have a war room display platform that provides at a glance network status and provides a great impression for VIPs.
T/Mon LNX was the network management tool that met the client's needs in this case. Benefits of this tool over others included:
The LNX platform is an actively developed T/Mon platform that has the horsepower and the architecture to support their growing network management needs.
Autodabasing ASCII & SNMP modules allow T/Mon LNX to collect alarms from multiple devices without per-device or per-model licensing fees, effectively bringing all devices to a unified display.
The four seats of T/GFX provide a both a GIS based top layer view and a BMP / JPG details view. This allows for an intuitive effective management and access of your network resources.
For a different project, an international client from Europe contacted DPS for an important defense project. The initial contact email went something like this:
"As I said to you, the tender is towards for defense, and the NetGuardian 16S and 832A look promising. The goal of the tender is to replace a legacy network management tools infrastructure, replacing legacy protocols (Q1, various proprietary ASCII etc ) with standardized protocols, primary HTTP and SNMP v2c. Serial pass-thru, DI, AI, DO for management of legacy equipment are also required.
The tender is on approximately 400-600 units, with deployment of the first 250 units starting in October. Requests for additional units are expected.
I have attached two Excel spreadsheets, which we need you to respond to.
Required qualifications; These are the minimum requirements that must be met for this deployment of network management tools.
Technical requirements; These are all technical requirements. Requirements colored yellow are high-priority, and we need answers to these. The white are lower priority, but please answer as many as possible.
With respect to the ASCII-to-SNMP-trap/inform mapping, a simplified regular expression will do the job. I will provide examples of the strings as soon as possible.
If you can provide us with more detailed documentation, like user manuals, we would be very thankful.
I will also need to get a quote for the NetGuardian 16S / 832A.
If you have any case studies you can share regarding past deployments of network management tools, especially as used in military environments, please do.
The schedule is moving forward very quickly. As you can see, there is not much time, and if everything goes well we will need the units here in our country as soon as possible after signing of the contracts. Can delivery of this amount of units in this timeframe be a problem?"
Thanks to vertical integration, large scale deployment like this are not a problem at DPS. Quality also remains high on large orders since every unit receive diagnostic prior to shipment. This is unusual in an industry where statistical random testing (or worse) are commonplace.
Related Topics:
Network Management Software