Network Management Software: T/Mon XM
Network management software is a powerful tool in the fight to keep your network up, your costs down, and your revenue climbing. Because your network is spread out across a large service area, and many sites are unmanned, there's no way that you can effectively manage it without technological assistance.
That's a big problem for you, because network management software is more important than ever. Customers can and will change to a different service provider if you are unable to provide reliable service at a highly competitive price. They can research alternative options using the power of the Internet, and recent laws made the situation even more urgent for you. Notice the two components of that last sentence: reliable service and competitive pricing. Network management software helps you in your quest to achieve both.
First, network management software helps you keep your network online and service running 24 hours a day, 7 days a week. High uptime is the natural outcome of good visibility of your remote site status. If you know everything that's happening across your network, it's impossible for you to be surprised by a preventable problem. Instead, you will send a technician to "nip problems in the bud" before they can grow into bigger problems. Conversely, frequent network downtime and outages are the direct result of having poor visibility. Such poor visibility comes from deploying poor network management software (or no network management software all).

In this diagram, a T/Mon master station is supplying data to one of several Windows(R)-based PCs running T/GFX network management software.
Second, good network management practices will allow you to provide your reliable service at a good price. Although you may provide absolutely the most reliable service in your industry, that does very little good if your costs are so high that, when passed on to your customers, no one can afford to buy service from you. Network management software allows you to reduce your maintenance and operations expenditures - savings that you can pass on to your customers. Without good software to manage your network, you'll make far less efficient use of the people and resources you have available. Knowledge, after all, is power.
T/Mon XM is network management software that runs on a dedicated T/Mon hardware platform. It is accessible both directly and through a few different remote access interfaces.
T/GFX is perhaps the most powerful aspect of the T/Mon suite. T/GFX puts network alarms on a zoomable "drill down" geographic map display. This provides a few key advantages over non-geographic network management software.
First, a visual and geographical display of your network alarms means that less training is required for your network operators. They can easily see where network alarms are happening, rather than trying to determine a location for each alarm individually by reading (sometimes cryptic) alarm description text.
Second, problems are less likely to grow or be ignored when they are easily seen on the T/GFX network management display. Ignoring a few bullet points on an alarm list is easier to do than to ignore the fact that an entire town is facing flashing red critical alarm icons.
Third, the dual-platform architecture of T/Mon makes it more reliable. T/GFX is Microsoft Windows(R)-based software. Of course, the reliability of Windows is less than legendary. If T/GFX was the core of T/Mon network management, then this would obviously cause a problem. In the event of a Windows crash, you would be blind to network alarms.
That sort of blindness just doesn't happen with T/GFX, however, because it has dual-platform architecture. A dedicated T/Mon server runs a highly stable, proprietary platform. T/GFX software extracts data from the central server to a user's Windows-based PC. Dozens of T/GFX instances can be run simultaneously on many workstations. In this way, a single Windows crash does not impact your T/Mon network management software in any significant way.
T/Mon also includes a Web 2.0 interface. This provides a streamlined alarm interface for times where you might not be in front of a PC running T/GFX software. Because the interface is completely web based, you can access it from any PC on the network. You'll simply type T/Mon's IP address into your web browser. Again, multiple simultaneous users are suppored.
Similar to T/GFX, the Web 2.0 interface offers bottom-line benefits in the form of training reduction and improved problem resolution. The Web 2.0 interface provides an intuitive alarm view in locations where it would not previously have been available (no software installation is required). Also, because the interface is clear and easy-to-use, just about any technician with any qualification level can begin viewing and managing equipment and environmental alarms.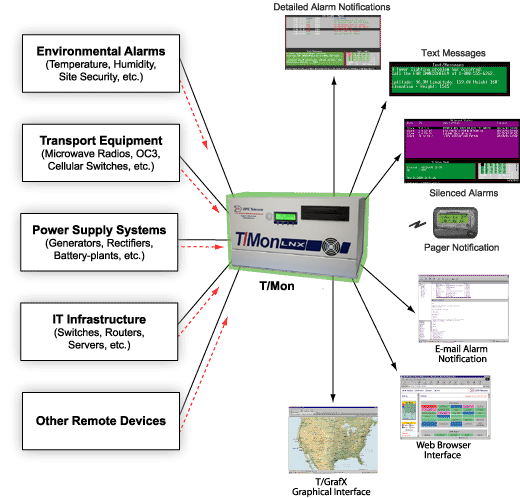 In this diagram, a T/Mon master station is running T/Mon XM network management software.
Focusing now on just the T/Mon hardware/software platform, it collects alarms from your equipment using industry-standard protocols, such as SNMP and TL1. Instead of locking you into proprietary network management software and protocols, DPS Telcom's T/Mon accepts alarms from dozens of open protocols, freeing you from any proprietary/closed traps you're current in - and making sure you never get trapped again.
This is absolutely critical to remember as you evaluate network management software. Don't get stuck buying something that will only work with one vendor's equipment in the future. That's a surefire way of getting stuck with "whatever they feel like charging" pricing schemes or, worse, a manufacturer that goes out of business. Far too many network professional have a horror story that ends with a forklift swap-out of their entire network management system all at once. When you have incompatible gear, that is your only way to make a transition. Don't become one of these people. Buy an open management system.
This should almost go without saying, but we've seen it all here. Don't buy into a network management software suite that isn't designed and proven in industrial environments. Ask potential vendors these tough questions:
Has your software been deployed in environments like mine? What about my industry? What about companies near my location?
Is the hardware platform that your software runs on industrial-grade? Am I expected to simply install your software on my own PC or server?
Do you have a list of alarm remotes and equipment model numbers that have been proven to work with this management software, or am I expected to "hope" everything will work?
T/Mon XM Network Management in the Real World
DPS recently helped one client who needed to manage a network of about a dozen sites. The answer in this case was T/Mon network management software and a fleet of NetGuardian alarm remotes. Although both T/Mon and NetGuardians are produced by DPS Telecom, they are both capable of collecting and reporting alarms (respectively) in the SNMP protocol. This client had been burned in the past by a vendor's proprietary protocols, so they selected DPS telecom equipment to avoid this problem in the future. By selecting "all equipment, they maintain their freedom to choose a vendor based on performance at any point later on.
Another large company approached DPS telecom with using network management software in an automated dispatch application. The goal was to run T/Mon client software on dozens of PCs that they had already set up. The "central server plus client software" network management architecture of the T/Mon platform proved to be an excellent solution in this case. Lesser network management software running on just a single PC would never have been able to accomplish this application. Even multiple instances of the software would not be able to remain in sync without a central server.
DPS has also worked on network management projects in the southern United States. In this application, all equipment was outputting alarms as SNMP (v1) trap messages. This included radio equipment at the site. The network management software (T/Mon XM in this case) was responsible for:
RF Transmit each transmitter
RF Receive each receiver
Microwave Receive Signal level
Multiplexer Major Alarm
Multiplexer Minor Alarm
Waveguide High Pressure
Waveguide Low Pressure
Other equipment provided that can be readily interfaced to the network management system.
Generator temperature high/low
Smoke alarm
Building temperature high
Building temperature low
Tower beacon
Dehydrator failure
Battery charger
Open door
Generator running: Turn-on and turn-off
AC power failure
Tower side light
Tower lights on
Rectifier failure, each rectifier
Finally, DPS has worked with companies to consolidate network management under a single T/Mon software suite. In one case, a client approached DPS with several disparate management software programs in place (and regret that other systems were so expensive). The ideal system allowed this client to define OID values for an SNMP GET request and log the returned value for trending/graphing. Ping monitoring and Syslog protocol polling were also key parts of this project. A 24-port network switch with VLAN tagging was also evaluated, since the company already used VLAN tagging and needed network hardware that supported it. This DPS network switch was a specialized build of alarm remotes like the NetGuardian 216F and NetGuardian 832A with GigE fiber port option.
Related Topics:
Network Management Tools