T/Mon GFX FAQ: "How much will you cut your costs with a geographic map display?"
Need to reduce expenses?
If you're like most companies, you're preparing to cut costs for next year. That means doing
more
with less. And when it comes to your alarm monitoring, the
best
way to do that is with perfectly clear alarm presentation.
Every
wasted
truck roll or avoidable equipment damage is caused by unclear or inaccurate information. Having a clear map-based alarm presentation allows you to respond
more efficiently
, minimizing truck rolls and avoiding
expensive
equipment damage.
This T/Mon GFX FAQ
will show you how you can with a geographic map alarm display...
Q. What is the business advantage of using T/Mon GFX?
A. T/Mon GFX is a cost cutting tool wrapped up in a Windows interface. With a detailed overview of your whole network, you can make more effective technician dispatches. You'll really be working with a high-leverage tool. This means less wasted driving and reduced labor/fuel costs.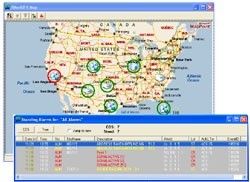 T/Mon GFX cuts your cost by making your alarms much clearer...
GFX rapidly accelerates repair operations by providing detailed up-to-date information for multiple response teams. A service operator can see problematic equipment in the same way a field technician sees it, and then provide detailed instructions remotely from the central office. You'll be able to save time by handling alarm responses in a prioritized way.
Q. What can T/Mon GFX do for me?
A. T/Mon GFX is the newest graphical display interface for your T/Mon NOC. T/Mon GFX is a Windows application that provides visual alarm representation on various layers of geographic maps and photographs. It enhances your network visibility by allowing you to see all of your alarms in a visual way. In addition, it makes managing your network clearer and easier; using a smaller less trained staff.
Q. Can T/Mon GFX keep up with T/Mon NOC?
A. Boosted application performance allows T/Mon GFX to keep up with T/Mon NOC. T/Mon NOC is a dedicated monitoring platform, which gives it very fast alarm processing times. T/Mon GFX has been optimized to keep up in a Windows environment. You won't struggle with a sluggish interface, keeping your efficiency up and your costs down.
Q. Will this interface maintain my security standards?
A. T/Mon GFX protects your alarms from unauthorized viewing or modification at the user level. A user profile is needed to login to T/Mon GFX. Each user may have different rights to access or change alarms and databases. These profiles are stored directly within T/Mon and sent to each T/Mon GFX workstation, making it easy to change user privileges in just one location. If you aren't able to set permissions at the user level, a brand new operator might make a huge mistake accidentally.
T/Mon GFX provides other forms of security: T/Mon GFX provides a bird's eye view of all your sites. This makes it easier for you to catch security breaches and protect your revenue-generating equipment from theft. It can greatly reduce the risk and cost of unauthorized access throughout your network.
Q. What size network can GFX handle?
A. T/Mon GFX can be used for anything from small regions to national or worldwide networks. But regardless of your network size, you'll never pay per-monitored-device.
Q. Do I have to manually update my alarm and user databases on all T/Mon GFX workstations?
A. Of course not. Alarm and user databases are synchronized automatically with T/Mon. The T/Mon NOC database stores all alarm icons and user-provided background images. Automatic updates of the latest maps and icons are sent directly to T/Mon. If you make a change on one PC, it automatically propagates to all other T/Mon GFX workstations, so that all users will see the same information. This reduces the labor cost of manually updates.
Q. How many simultaneous users are supported?
A. T/Mon GFX comes with built-in support for two simultaneous users, but you can add many more. It is expandable to almost any staff size, providing you with as much visibility as you need. You can purchase more T/Mon GFX seats as needed for dozens of concurrent users. You don't have to pay for seats you don't need, and you can easily add seats if you're feeling a capacity crunch.
Q. Is T/Mon GFX easy to train new operators on?
A. T/Mon GFX supports common Windows controls like: button toolbars, right-click menus, minimize and maximize windows, etc. Working with a familiar Windows interface makes site monitoring very intuitive. This reduces training time and expense.
Q. What are the system requirements for T/Mon GFX?
A. T/Mon GFX can work on any standard Windows workstation. It can run on Microsoft Windows XP Home, Professional, Windows Server 2003, Windows 2000 Professional or later operating system. In addition, it requires a small amount of available hard drive space, Microsoft Internet Explorer 5.5 or later, and Microsoft MapPoint 2006 (included). T/Mon GFX works with T/Mon software version 6.0 or later. You're also not forced to use GFX - you'll always have access to the classic T/Mon interface at no additional cost.
Q. Can I create more than one map level?
A. Yes. T/Mon GFX supports "drilling down" through multiple layers of maps and image backgrounds. You can design whatever layers suit you best, "drilling down" from regions, to cities, to sites, to photographs of individual equipment racks. You can also have more than one level in open different windows at the same time. T/Mon GFX also provides a hierarchical view of maps and alarms represented as a tree. Multiple map levels saves labor expense by reducing the time it takes to interpret and intelligently dispatch reponses for your alarms.
Q. Can I launch programs from GFX icons?
A. Yes. Icons can be linked to a program. Icons linked to programs are handy shortcuts accessible within T/Mon GFX, saving little bits of time that add up quickly when you're working within a limited staff size.
Q. Can I launch my web browser from T/Mon GFX?
A. T/Mon GFX can launch the web browsing capabilities of any standard PC. It provides convenient access to the MyDPS website for user manuals, FAQs, software, and firmware.
Q. What do all of the colored circles around the icons mean?
A. Colored icons indicate alarm severity under that icon. T/Mon GFX comes with customizable alarm colors, identifying whether an alarm is "critical", "major", "minor", or "status". Creating a standardized key for alarms for all of your sites. When an icon is blinking, it indicates that the alarm is in a recent change-of-state - it hasn't been acknowledged by anyone yet. Optional lines between icons represent links between equipment like transmission lines or communication channels. Color-coding reduces time spent interpreting alarms with instantly recognizable severity levels.
Q. Can I use photographs as backgrounds?
A. Yes. Photographs can be used for icons, sites, or individual equipment racks. For easy reference with familiar images, you can upload actual photographs of your sites and equipment racks onto T/Mon GFX. This support means you don't have to budget time for creating new images.
Q. Can I use floor plans as backgrounds?
A. Yes. Floor plan images can be used as background images for layers. Using your own floor plan images makes it easy to read and understand exactly where an alarm is located. You don't have to budget time for creating new floorplans within GFX. You can simply import those you probably already have.
Q. What kind of graphics formats can I use as backgrounds?
A. You can use any graphics file in .BMP, .GIF or .JPG format. T/Mon GFX software includes Microsoft MapPoint, so you can always use dynamic maps for backgrounds. But your backgrounds can also come from .BMP, .GIF, and .JPG image files. This allows you to use drawings, floor plans, maps, schematics, rack photographs, and screen captures for your backgrounds. You'll never waste time building new backgrounds in a clunky, proprietary interface.