NetGuardian 832A G4: High Capacity SNMP Alarm Collector
The NetGuardian 832A G4 is a powerful, compact LAN based alarm collector that provides network managers with remote visibility of their IP network elements. Monitoring 32 discrete alarms and 8 analog alarms, the Net Guardian G4 alarm system pings 32 network elements, controls 8 relays, and provides LAN reach through access to 8 serial ports. It reports via SNMP v2c or DCPX, e-mail, or pagers - a complete remote site monitoring solution.


NetGuardian 832A G4 Key Benefits
High Capacity: 32 discrete alarms (expandable to 176), 32 ping alarms, 8 analog alarms, 8 controls, and 8 serial ports for monitoring remote sites.
Reports alarms via SNMP v2c or DCPX.
Reports alarms to a lot of SNMP managers or TMon Remote Alarm Monitoring System so it's easier than ever to support a more secure redundant master architecture.
Dual Ethernet support for secure network access, both NICs have access to the NetGuardian but not to each other.
8 high-speed (110K) serial ports provide multiple user LAN-based reach. This is through access to PBXs, switches, and any other device with a craft port or serial only interface. (Similar to terminal serve functionality)
Integrated 4 port hub allows functionality with the NetGuardian SiteCAM for visual site surveillance.
Alarm point grouping provides severity levels, custom virtual alarms and more.
RoHS 5 approved, for overseas clients requiring RoHS compliant units.
Alternate dial-up reporting path for continuous remote site monitoring in case of a main communication path failure.
Configure the NetGuardian and monitor your remote sites via Web browser
E-mail and pager alerts.
Free tech support and upgrades.
Free Windows-based utility for off-site editing and remote provisioning via LAN.
Customized monitoring diagram.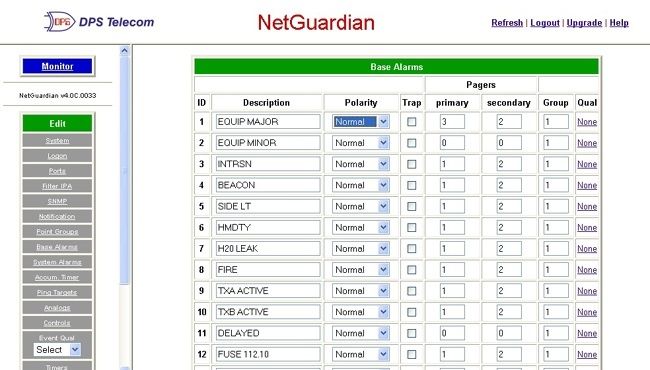 The Net Guardian Alarm System's Web Browser Interface lets you configure and monitor your alarms from any web browser.
NetGuardian 832A G4 Key Features
High Capacity
Monitors 32 discrete alarms and 8 analog alarms
Provides LAN reach through access 8 high-speed (110K) serial ports
Integrated 4 port hub allows functionality with the NetGuardian SiteCAM for visual site surveillance
Reports alarms via SNMP v2c or DCPX Web Browser Interface
Specifications
Target Solution
High-Capacity Alarm Collection
Monitoring Capacity
Discrete Alarm Inputs: 32
Ping Alarms: 32
Analog Alarms: 8

-94 to +94 VDC or 4 to 20 mA

Control Outputs: 8 FormC

Max. Voltage: 60 VDC/120 VAC
Max. Current: 1 Amp, AC/DC

PPP: Permanent, Backup, or On-demand
Interfaces
8 RJ45 Yost RS-232 ports
2 RJ45 Ethernet 10baseT port
1 RJ11 Telco jack
2 50-pin amphenol connectors (discretes, controls, and analogs)
33.6K internal modem
Protocols
Protocols: SNMPv1, SNMPv2c, or DCP (depending on firmware ordering options), TAP (Alpha) paging, and Numeric paging
Physical Attributes
1.75" H x 17" W x 12" D
(4.5 cm x 43.2 cm x 30.5 cm)
4 lbs. 3 oz. (1.9 kg)
19" or 23" rack
Power Input
-48VDC (-40 to -56VDC)
(Optional) -24 VDC (-18 to -36 VDC)
(Optional) Wide Range -24/-48 VDC (-18 to -72 VDC)
Current draw: 200mA
Operating Conditions
Temperature: 32° to 140°F (0°- 60°C)
Humidity: 0% to 95% non-condensing
Fuse
3/4 Amp GMT for power inputs
1/4 Amp GMT for external sensor
Power Outputs and Integrated Ethernet hub
Common use cases for the NetGuardian 832A G4
Like its predecessors (and the more modern G5 model), the 832A G4 is a large & full-featured RTU. It has 8 control relays and 32 discrete alarms and also has analogs ("832A").
This RTU sees a lot of use at medium-to-large remote sites where its 8 serial ports for terminal reach-through are useful. The triple threat of LAN, serial, and POTS dial-up are also a fairly unique feature. More recently, obviously, serial and POTS are decreasingly common.
Even in the age of the 832A G5, the G4 is still deployed by organizations who highly value consistency and standardization (and who do not need the newer features of the G5).