Getting More When You Choose Your Fiber Switch
Do you need to connect your LAN-based devices to your network, but only have access to spare fiber? Do remote sites in your network not have access to existing LAN? Installing the new infrastructure to accommodate LAN is too time consuming and too costly.
With a fiber switch, you can avoid the hefty price tag that comes with installing LAN lines to your remote sites. A fiber switch will allow you to connect your LAN devices to your network via fiber. A fiber switch is a simple solution to fully connecting your entire network.

No matter which industry you're in, you can use a combination RTU and fiber switch.
You need a high quality fiber switch to connect your devices. A cheaply built fiber switch won't give you the reliable connection you need to fully connect your entire network. Without a reliable transport for your data, you'll be susceptible to disruptions in service, and even network outages.
You don't have to limit yourself to a single-function fiber switch, though. You want to get the greatest ROI, which is why I recommend looking into a remote terminal unit (RTU) with a built-in fiber switch. With a quality RTU, you'll have so much more functionality out of your fiber switch.
An RTU can provide you with additional security for your network. Your valuable equipment is exposed to dangerous environmental conditions every day. Threats like temperature, humidity, water, etc can cause serious damage to your equipment - which results in giant repair bills, lost revenue, and throngs of angry customers ready to take their business elsewhere.
You don't have to be one of the unlucky ones who suffer from a crippling network outage. This kind of damage is easily prevented, without breaking your budget. You just have to select the right RTU.
How do I choose the right RTU?
Not all monitoring systems are created equal. That makes choosing the right system very important. An RTU with limited features will only provide you with a false sense of security. You'll think you're protected but in reality you aren't.
The first and most important step in choosing the right RTU with a fiber switch is arming yourself with the information you need to make good decisions. I'd recommend reading the free Network Alarm Monitoring White Paper.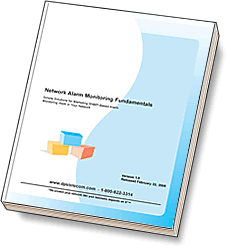 Download the FREE Network Alarm Monitoring Fundamentals here
This White Paper is a solid introduction to the key factors in choosing the right RTU. In this guide you will learn essential information like:
What equipment you need to monitor
How to design an alarm system to meet your current and future needs
How to minimize transition costs
With this guide you'll be on the right path to making the right choice.
Can you give me an example of a quality RTU? Protecting your valuable equipment is a serious job - and you need a serious solution. If you've read the free White Paper and know what you need in a monitoring system, then I'd recommend the NetGuardian 216F. This device has all the powerful monitoring features you need in addition to the fiber switch you need to connect all of your LAN devices to your network. With this device you get two SFP fiber ports (1000BaseX), 16 discrete and 8 analog alarms, free lifetime firmware upgrades, and world-class 7x24 tech support. This device also comes standard with a 30 day risk-free guarantee:
"All the alarm monitoring systems I make are backed by my no-risk, money-back guarantee. If you buy my equipment and you're not satisfied for any reason during the first 30 days, simply return it for a full refund. If my product doesn't solve your problem, I don't want you to have it."
- Bob Berry, CEO, DPS Telecom
Don't leave your network vulnerable any longer - call (1-800-693-0351) or email (sales@dpstele.com) to speak with a DPS Telecom network monitoring specialist today. The specialists at DPS can answer your touch questions or even provide you with a free Return-on-Investment (ROI) analysis - so you can see just how much you can save using an RTU with a fiber switch.