For further information regarding SMS Reporting:
Wireless GSM/CDMA Knowledge Base

CellVoice 4 Overview Video
On this episode of DPS TV, Andrew introduces the CellVoice 16 and CellVoice 4. Hear Mark Carberry, the Director of Engineering, explain some of the features regarding these 2 units. Hear about their configuration options. Contact DPS to find out more about these 2 units.
CellVoice 4 Screenshots

Monitor your CellVoice 4's discrete alarms from any web browser. When you have LAN access to the CellVoice, you can check to make sure that everything is running smoothly at your site.

The CellVoice 4's web interface allows you to monitor your analogs and set controls from any computer with internet access, so you can always keep an eye on your site.

Set your call list from anywhere, so you can be sure that if something goes wrong, the right people hear about it.
---
Get a Custom Application Diagram of Your Perfect-Fit Monitoring System
There is no other network on the planet that is exactly like yours. For that reason, you need to build a monitoring system that's the right fit for you.
"Buying more than you need" and "buying less than you need" are real risks. You also have to think about training, tech support, and upgrade availability.
Send me a quick online message about what you're trying to accomplish. I'll work with you to build a custom PDF application diagram that's a perfect fit for your network.
---
Make an Informed Decision
Your network isn't off-the-shelf.
Your monitoring system shouldn't be, either.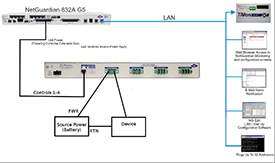 We'll walk you through this with a customized monitoring diagram.
Just tell us what you're trying to accomplish with remote monitoring.
Get a Custom Diagram