Using An External CDMA Modem To Bring LAN To Remote Sites
One of the many issues facing aging networks is the lack of modern data transport. Much of the hardware in industrial telecom networks today was built and installed before cellular technology was widely used for IP/LAN/Internet. Instead, virtually all equipment was intended to be hardwired into a LAN, dedicated circuit (ex. serial RS232/RS485), or modem in order to transmit alarms and responses.
More recently, network engineers have begun using cellular data connections in areas where running physical lines to a single remote facility is not feasible. This is fine when a device has a built-in cellular modem, but older gear won't natively support CDMA or GSM.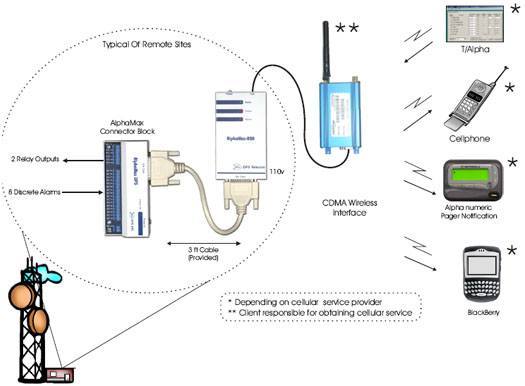 In this diagram, a CDMA modem gives a data connection to another device that only supports wired LAN.
So what can you do when you have older gear that needs LAN but doesn't support GSM/CDMA?
An external GSM/CDMA modem will provide a wired data connection to your LAN equipment. Getting the data back to your internal corporate LAN can be tricky, but at least it's possible with an external data modem. Devices that are even older and require a serial connection will also require a terminal server to transmit serial over IP.
Many monitoring devices are still fully capable of performing their job, if only you can provide a data connection in the format they require. External interfaces like CDMA and GSM modems allow you to do this. When you're installing a single piece of new equipment, it's generally more efficient to order a built-in wireless modem when you can. For devices already in your network - or for a group of devices that will be routed over a single external modem - an external modem can be the best solution.