Complete Tower Monitoring System: Screens
The just released NetGuardian 216 G3 includes an overhauled web interface that boasts several time-saving new tools, including new analog gauges. You'll also notice the impressive speed boost. Menus load very quickly, and alarm statuses update automatically without requiring a page refresh. Look below for screens of the new setup wizards that make it easy to configure email, pager, and SNMP notification schedules.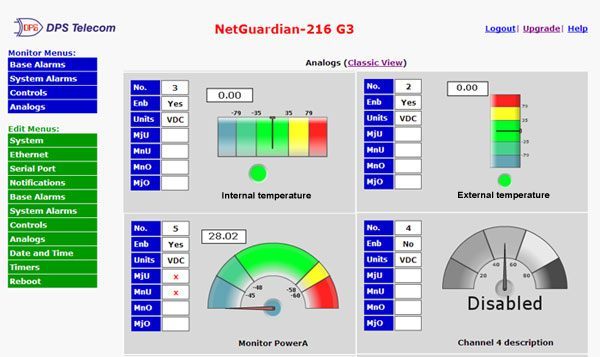 New! Choose your own gauges: - On the new web interface, you'll choose from several, color-coded analog gauges to help you identify trouble spots in no time.

Base Alarms Screen - See all your alarm descriptions at-a-glance and know right away which are clear and which are in alarm.
| | |
| --- | --- |
| Analogs - Two View Options: This screens shows where you can choose the type of gauge you want to display your analog readings. These settings are configurable by clicking 'Advanced' from the Edit > Analogs page. | Classic Analog View: You have the option to toggle back and forth between Classic and Advanced (Gauge) analog view. This screen shows the Classic analogs view, similar to previous NetGuardian web browsers. |
| | |
| Configurable Web Timers: From the Edit > Timers screen, you can define values for web refreshing, timed tick (for masters that can't perform integrity checks), and the audible speaker time. | Adjusting the Day and Time: Know when important alarms conditions occur, right down to the second. This screen is where you'll set the day and time, identify the NTP (Network Time Protocol) server being used, and make adjustments for Daylight Savings. |
| | |
| Configure Email Notifications: From the Edit > Notifications screen, you can configure email notifications. This means you can keep tabs on your network monitoring, as long as you have access to your email. | Setting Up SNMP Notifications: The NetGuardian 216 G3 can forward any alarms straight to any SNMP manager or T/Mon. Using the Edit > Notifications screen, you can configure the trap information required for your SNMP manager (or T/Mon) to receive SNMP traps from your NetGuardian. |
No other network on the planet is exactly like yours...
For that reason, you need a monitoring system that's the right fit for you.
We manufacture nearly 75 product variations per year that are customized to our clients' exact spec, all while providing training, tech support, and upgrade availability.
Send us a quick online message about what you're trying to accomplish. We'll give you a call and work with you to design a perfect-fit solution for your network.
Click here for more information.