Using Wireless Temperature Monitoring to Protect Your Network
Do you wish you could monitor the temperature of your server rooms, data centers, and remote sites wirelessly? Temperature-related threats can have devastating effects on your valuable IT equipment. Staying on top of your network is a crucial aspect of maintaining network uptime.
Having the capability of wirelessly monitoring your equipment gives you flexibility you've never had before. Whether you have a distant remote site you want to wirelessly connect to your network or you just want to receive SMS text message alerts to your cell phone, having wireless capabilities with your remote terminal unit (RTU) gives you the real flexibility you need to monitor your network.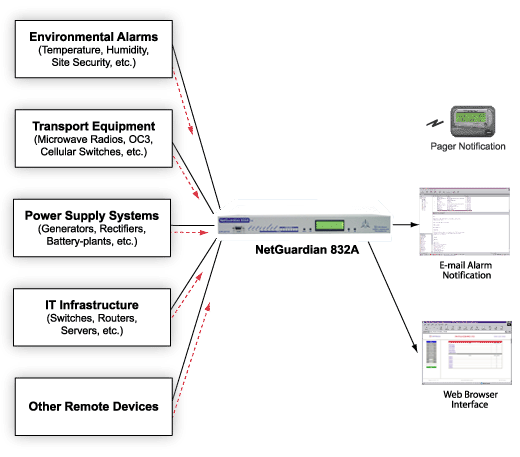 You can monitor the NetGuardian 832A from any web browser and receive alerts via email and pages.
Wireless monitoring technology has three primary advantages:
Primary reporting path to sites without LAN

- With a wireless RTU you can connect to your distant remote sites without having to install expensive infrastructure. Now you can have the wireless temperature monitoring you need to fully manage your remote sites.

Reliable backup path during LAN outages

- Without a backup path you're still exposed to network outages. If the primary LAN connection goes down you need a backup connection to stay connected. A wireless RTU gives you the reliable backup path when your LAN connection fails - exactly when you need it the most.

Support for SMS text message alerts

- A good RTU will come standard with email and pager alerts for 24/7 alert capabilities, but perhaps you want more. Perhaps you want to receive text message alerts straight to your phone. In that case, having a wireless RTU makes SMS text message support a reality.
Using the right wireless temperature monitoring will give you the access you need to connect to your remote sites - or the reliable backup reporting path you need. It's simply not enough to pick just any monitoring system - you need to pick the right one.
Not all RTUs are created equal. Many lack the required features to effectively monitor your equipment and remote sites. Limited solutions don't provide you with the tools you need - only a false sense of security. That's why it's important for your wireless monitoring system to have at least these minimum features:
Analog sensor technology

- Using basic "discrete" sensors just isn't enough. Discrete sensors can only provide you with binary "on/off" measurements. With a discrete sensor you pick a certain temperature and if the temperature rises above that specified point then you'll receive an alarm. These kinds of sensors aren't capable of providing you with the detail you need. Analog sensors output at a continuous rate, which allows you to receive alerts with the precise temperature, or allow you to view the temperature at any time. Analog sensors are capable of giving you the detailed alerts you need to assess the temperature threats and prioritize your response.

Versatile alert methods

- Emergencies don't keep standard hours and neither should your monitoring system. Having a monitoring system that's only capable of sending alerts to an internal master station doesn't give you the flexibility you need. A good RTU will be capable of alerting you anytime no matter where you are. Look for versatile reporting methods - the more the better. At the bare minimum you should have email and pager alerts, with support for more.

Escalation lists

- An escalation list is essentially a backup reporting list. If the first person the list isn't able to respond to the threat, then another person will be alerted, and so on. An escalation list gives you the backup you need in case the first person notified is too distracted or too deeply asleep to respond.
Where can I find a wireless temperature monitoring system with these features?
You realize just how much easier your job could be with the right monitoring solution. Imagine always knowing when there was a temperature threat to your equipment. Just picture how much you could save by preventing a single network outage. How happy would your customers be if they never had to experience disruptions in service because you failed to respond to a preventable network outage?

The NetGuardian 832A G5 monitoring device that can handle your tough wireless temperature monitoring needs.
Wireless monitoring temperature is a serious job - and you need a serious solution. That's why I recommend the Wireless
NetGuardian 832A G5
(for a PDF product page click
here
). This powerful device can report wireless via GSM or CDMA, comes standard with email and pager alerts (with support for SMS text messages and voice alerts to your phone), features an escalation list up to 8 people, and comes standard with world-class 7x24 (7 days a week, 24 hours a day) tech support. This device also comes with a 30 day risk free guarantee.
"All the alarm monitoring systems I make are backed by my no-risk, money-back guarantee. If you buy my equipment and you're not satisfied for any reason during the first 30 days, simply return it for a full refund. If my product doesn't solve your problem, I don't want you to have it."
- Bob Berry, CEO, DPS Telecom
Don't leave your valuable equipment at risk any longer - call (1-800-693-0351) or email (
sales@dpstele.com
) the wireless monitoring specialists at DPS Telecom to get started protecting your network today.