Easy-to-Configure Analog Sensors - When you plug in a sensor, the TempDefender will automatically determine the sensor's type and necessary settings. You don't have to worry about any complicated settings. Just plugin the sensor, set your thresholds, and you're ready to go.

The last important piece to an effective temperature monitoring system for your food storage facility is having an escalation list. Escalation lists allow you to protect yourself if the first person alerted is too busy, too distracted, or too deeply asleep to handle the temperature-related threat. If the first person doesn't respond within a specified time (say 10 minutes), the second person is then notified, and so on up to 8 people (you want a monitoring system with at least 8, that way you are best protected from temperature threats).

How can I protect my food storage facility?
Now that you know what it takes to effectively monitor your food storage, you can pick the right monitoring solution to tackle the job and not exposure yourself to the giant headache of having a temperature failure in your facility.

You know the device needs an advanced analog sensor systems (the simple discrete sensors just won't cut it), a versatile system to send you important notifications about your facility temperatures, and an escalation list to protect from a busy worker not being able to address the threat.

Imagine the peace of mind guaranteed by using a monitoring system. You no longer have to worry about the state of your food storage, and you no longer have to experience the unnecessary risk of your food perishing because you were unaware of a temperature crisis.
"Your food storage facility guardian..."
Now that you're ready to use your own temperature monitoring system (so you can avoid the huge frustration that can result from a lack of effective monitoring), you should take a look at the TempDefender IT for your monitoring solution. This compact device can support up to hundreds of feet of cable, allowing you the flexibility you need in setting up the analog sensors in your facility. This device allows you to pinpoint any temperature problems and will alert you with great detail the nature of the problem (note: if you wish to receive voice alerts for your phone, you should look into the NetGuardian Voice 16 or the NetGuardian LT). Call the sales team at DPS Telecom at 1-800-693-0351, or email them at sales@dpstele.com to get started on implementing your own temperature monitoring solution.
---
Get a Custom Application Diagram of Your Perfect-Fit Monitoring System
There is no other network on the planet that is exactly like yours. For that reason, you need to build a monitoring system that's the right fit for you.
"Buying more than you need" and "buying less than you need" are real risks. You also have to think about training, tech support, and upgrade availability.
Send me a quick online message about what you're trying to accomplish. I'll work with you to build a custom PDF application diagram that's a perfect fit for your network.
---
Make an Informed Decision
Your network isn't off-the-shelf.
Your monitoring system shouldn't be, either.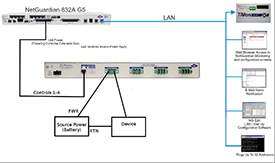 We'll walk you through this with a customized monitoring diagram.
Just tell us what you're trying to accomplish with remote monitoring.
Get a Custom Diagram