Using an External Digital Temperature and Humidity Sensors to Guard Your Gear
Monitoring the temperature and humidity in your IT environments could mean the difference between huge repair bills and keeping your network online. Many operators and technicians overlook these environmental conditions, and often end up paying for it.
Temperature is the most common threat to your valuable equipment. Your IT equipment generates more heat than ever before. All of this excessive heat, if not properly circulated out of the room, can have serious effects on your gear. If the temperature in your server room, data center, or remote site gets too high, you'll be looking at some serious consequences - thermal shutdown (at best) or crippling hardware damage (at worst).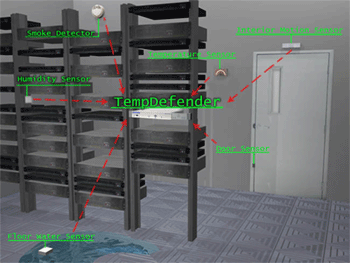 Diagram showing the TempDefender IT monitoring all critical environmental conditions.
While temperature is the most common, humidity also poses a serious threat to your gear. If the humidity of your IT environment gets too high, the components on the circuit boards of your gear will likely begin to rust and fail - if you're lucky. If you're not so lucky, your gear will short circuit and be damaged beyond repair. On the other hand, if the relative humidity levels are too low, your gear will become susceptible to static electricity build-up. The good news is you can prevent yourself from being one of the unlucky ones.
What do I need to do to prevent these kinds of damages?
The key to avoiding these damages is simply being aware of the threat before it causes crippling damage. You can do this by using an external digital temperature and humidity sensor to monitor your mission-critical equipment.
Not all monitoring systems are created equal. Many solutions fail to see the big picture, and leave out critical features that really make the difference. A limited monitoring system only provides you with a false sense of security - you think you're adequately protecting your gear, but in reality you're just as vulnerable.
What features do I really need in my monitoring system?
One of the most important features to look for is the sensor technology used. Basic discrete sensors are only capable of providing you with "on" or "off" information. Using temperature as an example, a discrete sensor would be able to tell you that the temperature has risen above a certain point. These sensors work great for conditions that you only need to know if it's on or off (like monitoring power to a remote site), but leave you in the dark with conditions that require more accurate information (like temperature and humidity).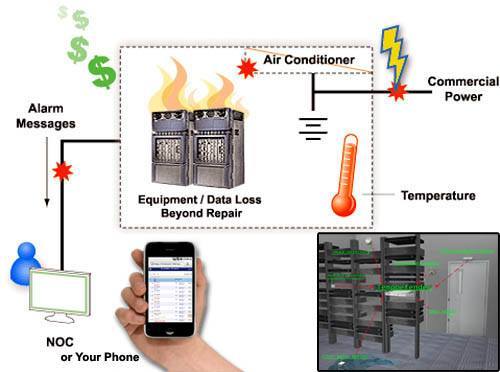 A good monitoring solution will be able to notify you of critical conditions 24 hours a day 7 days a week.
That's where analog sensors become useful. When trying to protect your equipment form temperature and humidity threats, you need all the information you can get. An analog sensor outputs at a continuous rate - which allows you to view the precise temperature at any time. Analog sensors provide you with the level of detail you need when responding to these kinds of threats. Simply monitoring environmental conditions with external digital temperature and humidity sensors isn't enough. You can't watch the temperature and humidity levels 24/7. Your monitoring system needs reporting capabilities that can alert you when the status of your server room, data center, or remote site has reached critical conditions.
With the ability to receive 24/7 alerts (via email, pages, phone, etc), you'll never have to worry about the status of your mission-critical equipment. No matter if you're away for lunch or at home, you'll always be the first to know if there's a serious threat to your equipment. Even if you already have a 7x24 NOC, your monitoring system can send SNMP traps to your master station. The right monitoring solution will provide you with true flexibility.
How much is your network uptime worth to you? Imagine just how much easier your job would be with the right monitoring system. With the right system, you'll never be left in the dark - and you'll sleep easy at night knowing nothing is going to happen on your watch without you being the first to know.
Where can I find the right monitoring system?
Choosing the right solution doesn't have to be a hassle - and it doesn't have to break your budget. Monitoring your equipment is a serious issue that requires a serious solution. That's why I recommend the TempDefender IT monitoring system with external digital sensors. This device is compact, easily rack-mounted, and provides support for 8 discrete sensors and 4 analog sensors (which can be daisy chained up to 16). This device also comes with a graphical user interface (GUI) - which provides an external digital display of your network alarms from any web browser.
See what DPS Telecom clients have to say...
"While the quality of your equipment speaks for itself, without a doubt the best part of working with DPS was your customer satisfaction. Your multiple phone calls to see if there was any support we needed, were above and beyond what we expected. It truly made the difference. Thanks again for the product and most of all, for the service and the support."
P.J. Renehan - Project Manager, MOTOROLA
Don't leave your valuable equipment vulnerable any longer - call (1-800-693-0351) or email (sales@dpstele.com) the monitoring specialists at DPS Telecom. The DPS sales engineers can help you design the right monitoring solution to fit your exact needs. They can also answer your questions or even provide you with a free Return-on-Investment (ROI) analysis - so you can see exactly how much you can save.