The NetGuardian 832A G5 gives you powerful and effective options for all of your network monitoring needs.

Since you want the best, and because you refuse to cut corners, I recommend looking at the NetGuardian 832A G5. This device gives you all of the critical features and more. This fully customizable device comes with an extensive catalog of accessories to customize all of the specifics and comes with an easy-to-use graphical user interface (GUI) for simple setup and operation. You can sleep easy at night knowing nothing will happen without you being the first to know. This device will take the heavy burden of monitoring your network off your shoulders - letting you focus your valuable time on other tasks.

You can't afford to leave your business vulnerable any longer, call the experts at DPS at 1-800-693-0351 or email them at sales@dpstele.com to get started with protecting the value of your business.
---
Get a Custom Application Diagram of Your Perfect-Fit Monitoring System
There is no other network on the planet that is exactly like yours. For that reason, you need to build a monitoring system that's the right fit for you.
"Buying more than you need" and "buying less than you need" are real risks. You also have to think about training, tech support, and upgrade availability.
Send me a quick online message about what you're trying to accomplish. I'll work with you to build a custom PDF application diagram that's a perfect fit for your network.
---
Make an Informed Decision
Your network isn't off-the-shelf.
Your monitoring system shouldn't be, either.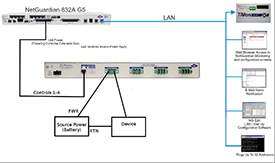 We'll walk you through this with a customized monitoring diagram.
Just tell us what you're trying to accomplish with remote monitoring.
Get a Custom Diagram