The Computer Equipment Room Monitoring Basics
Have you ever been a victim of a network outage because you lost critical functions in your computer equipment room? Maybe you've heard about these nightmare scenarios where a network goes down, costing thousands in repair bills and leaving too many upset customers, and decided you want to protect yourself from these kinds of threats.
Either way, the importance of monitoring your valuable network and equipment can't be understated. Too much depends on the smooth operation of your network to allow for preventable outages to occur. That's why it's absolutely essential to have the right computer equipment room monitoring system.
Many monitoring solutions out there fail because they don't see the big picture. Using the wrong equipment with limited features leaves you in the exact same position, or even worse, as having no monitoring equipment at all. There are a few basic features that any effective computer equipment room monitoring system needs to be effective.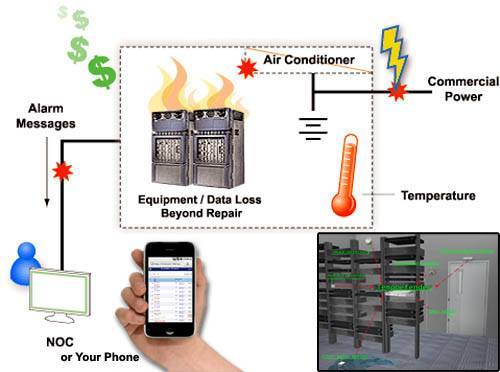 Effective computer equipment room monitoring - all of the essentials are being monitored.
What does it take to monitor my computer equipment room?
First the system needs to support multiple sensor types to truly be functional. Many devices fail to do this and can't provide adequate detail and information for effective decision-making. Basic discrete alarms can only provide you with binary information (if something is either "on" or "off" or if something like temperature has risen beyond a specified point) and lack the true detail required. For example, discrete sensors are great for notifying you if the power to your computer room has gone down. They can simply alert you about something changing, but without specific and detailed information (like the temperature is 84.3 degrees).
That's why you need analog sensors that provide a continuous output and give you detailed alert information. Analog sensors can give you accurate readings of critical values inside your computer equipment room. For example, analog sensors are ideal for measuring the temperature or humidity inside your computer equipment room. Analog sensors give you the precise information you need to monitor your valuable equipment and make the right decisions.
Your monitoring system should also be capable of providing you with more than just alarms to a master station. Computer room emergencies don't keep standard business hours, so you need the right alert methods to keep you informed. A device that only provides you with one alert method isn't giving you the full protection you need. Look for devices that provide at least two different ways of alerting you around the clock wherever you are, because you never know where you'll be the next time you have a network emergency. Even with a 24/7 network operations center versatile alerts out of the office give you additional flexibility.
Many monitoring systems fail because they lack any sort of backup notification list, called an escalation list. If the first person notified is unable to address the issue, because he's too busy or too deeply asleep, then other people should be notified. Ideally you want your system to have an escalation list of at least five, but ideally more to really ensure the security of your computer equipment room.
It's also important to look for vendors that provide high quality client support. Good solutions need to come packaged with quality tech support to ensure smooth operation. Find vendors with field-proven technology and the testimonials to verify it.
Lastly, it's important to use well-constructed equipment. The best monitoring system in the world is worthless if it can't withstand the rigors of your computer room. Look for systems operating ultra-stable software platforms on industrial-grade hardware. You can't afford to place the burden of monitoring on cheaply built hardware.
Where do I get a monitoring system that has all of these features?
You've imagined just how much easier your job will be with the right computer equipment room monitoring system. You no longer have to worry about a critical outage crippling your operations - costing you lost revenue and valuable customers.


"Your computer equipment room protector..."
Since you're a professional, and you refuse to cut any corners, I recommend taking a look at the TempDefender IT monitoring system. This device is compact, powerful, and comes standard with first-class 24/7 (that is 24 hours a day, 7 days a week) tech support. With the TempDefender IT you can monitor all of the essentials in your computer equipment room: temperature, humidity, water presence, smoke detection, and motion detection. Don't leave your computer room vulnerable for another minute, you really can't afford the risk.
"While the quality of your equipment speaks for itself, without a doubt the best part of working with DPS was your customer satisfaction. Your multiple phone calls to see if there was any support we needed, were above and beyond what we expected. It truly made the difference. Thanks again for the product and most of all, for the service and the support."
P.J. Renehan - Project Manager, MOTOROLA
Contact the computer monitoring experts at DPS Telecom to get started protecting your business today. You can reach them at 1-800-693-0351 or by email at sales@dpstele.com.