Remote Monitoring Tools to Prevent Network Downtime and Protect Valuable Equipment
A remote monitoring tool is any hardware or software (or a combination) that helps you keep track of your remote resources. As networks grow, network resources are distributed in different locations to support the network, and, since there's a limited number of you, you need something to help you keep tabs on your network when you're not around. This is where remote monitoring tools come in.
Typically, remote monitoring tools exist in a hierarchy, from the sensors at your sites actually monitoring equipment at your sites, to the master station, which consolidates all of the remote monitoring information to provide you with a total network view in a single interface. Lower-level remote monitoring components, discrete alarms, analog sensors, and control relays, are run through a remote telemetry unit (RTU), and the RTUs report to an alarm master. (In large, highly sophisticated networks, RTUs may be run through master stations to a "top-level" master. This introduction to remote monitoring tools will not explore a network with that level of sophistication.)
Discrete Points and Analog Sensors: the Monitoring Basics
Monitoring your network hardware is typically done with a combination of discrete points and analog sensors. They set "alarms" to indicate that something has gone wrong or outside a normal range. Discrete alarms issue a certain voltage when a condition has been achieved, providing a binary alert. They provide on-off, open or closed, connected or disconnected sort of alarm reporting. Often, these points can be databased within an RTU or a master station with various levels of importance - critical, major, and minor - to help provide more sophisticated alarm reporting.
Analog sensors measure a range of current or voltage and interpret their readings based on a reference, effectively measuring temperature, fuel level, pressure, and a number of other factors. Analogs typically don't monitor your equipment, because most equipment won't indicate how well it's working, but rather the environment and other factors related to your equipment that are equally important. For example, if the temperature at a remote site rises above the set-temperature for your HVAC equipment, you know that your air conditioning systems aren't working properly. (And, obviously, if the temperature rises too high, you'll likely face equipment failure.)
Remote Telemetry Units: Your On-Site Technician
Both types of inputs are found on Remote Telemetry Units (RTUs), a standard remote monitoring tool that essentially acts as your eyes, ears, and, in some cases, hands onsite. RTUs usually sit inline with other rack-mounted equipment, monitoring the above types of inputs, collecting the data, and notifying you when an alarm condition occurs.
Sophisticated RTUs, like the NetGuardian series from DPS Telecom, can monitor up to 64 discrete inputs and up to 8 analog inputs per unit, with expansions available to increase capacity, so you can monitor even your largest remote sites. They also offer notifications for alarms in a number of convenient ways, so that you can keep track of your remote resources from wherever you are. They'll send email, text, pager, and, with an accessory, voice notifications, so you aren't stuck watching a terminal full of scrolling text to keep track of your sites; you can keep a close watch on things from your smartphone or laptop.
For added benefit, some of the better RTUs out there also offer control relays, simple circuits that perform a function upon closing (or, in some cases, opening) the circuit. Control relays provide a small measure of control at remote sites, preventing you from making an otherwise unnecessary trip to a site, to flip on a generator or turn on air conditioning equipment. The NetGuardian series also allows you to derive controls from your discrete or analog alarms, so when an alarm value occurs that can be easily rectified by operating a control, the RTU will take care of it without bothering you about the situation.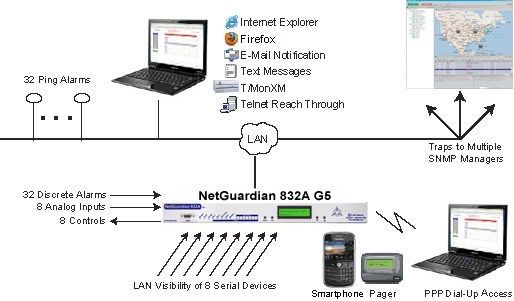 The NetGuardian RTU is the perfect remote monitoring tool, offering all the monitoring functionality you could ever need at your site in a single rack unit.
RTUs can also be ordered with a number of additional features to suite your monitoring needs. DPS Telecom's NetGuardian series can often be ordered with terminal server ports, allowing for access to your serial only devices over LAN, preventing trips to sites just to access equipment. Some can be ordered with a 10/100BaseT switch, so you can extend LAN access at a site without setting up additional equipment. Remember, your remote monitoring tools exist to keep you away from the sites, so you can keep your network running optimally and spend less time traveling; when you look at RTUs, it would be wise to consider these and other features that can help you do that.
As a remote monitoring tool, the RTU will also offer some form of interface you can access remotely. In some cases this is a simple terminal interface, operated with a series of commands that you'll have to remember in order to access your remote monitoring data. In the case of DPS Telecom's NetGuardians, it's a fully-featured web-browser interface. You can simply open a web browser and punch in the IP address of the RTU to see alarms at your sites or database your alarm points.
The Master Station Ties Your Network Together
It's important that the information from your remote monitoring tools is easily accessible and interpretable. As your network grows, it becomes increasingly necessary to consolidate the information your RTUs feed you to a single interface, so when you receive an alarm notification, you don't have waste time or energy attempting to remember which point is associated with which IP address at which site just to investigate the alarm. An alarm master station is a remote monitoring tool that does just this: it aggregates all your alarm data and displays everything on a single interface.
Your prime criteria for selecting an alarm master should be that it consolidates information from all of your equipment, regardless of protocol. Whether you have equipment working in legacy, proprietary, or any variety of protocols, your alarm master station needs to be able to capture everything, so you don't have to go outside the interface to see your alarms.
Outside of that, the top-level remote monitoring tool must be both accessible and have an easily navigable interface, so you can keep in touch with your master from wherever you are, and you don't have to fumble through a clumsy interface when you need to access it. T/Mon, DPS Telecom's alarm master station fulfills both criteria handily.
T/Mon provides three different interfaces, each designed to fulfill a specific monitoring need and each accessible remotely or locally. It has a standard terminal interface, which is designed for maximum usability. It is responsive and extremely powerful, designed for the power user who will database alarm points and monitor the unit. It also offers a web 2.0 interface that allows for quick access to alarm statuses, so you can quickly access your alarm database while on the go.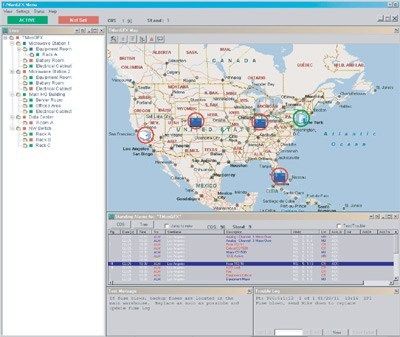 T/GFX provides a concerted, map-based interface that allows you to see where problems in your network occur at a glance. You can also "drill down" to any point on the network and even access the interfaces for individual pieces of equipment.
But the real draw is the new T/GFX map-based, graphical interface. T/GFX allows you to distribute your alarms on a map, so when any of your remote monitoring tools indicates a problem, you can see exactly where the problem has occurred geographically, so you no longer have to waste time associating IP addresses with physical locations. It also allows you to "drill-down" to lower-map levels, so you can get all the way down to a view of your equipment. If you have terminal servers or LAN accessible equipment at your sites, you can also associate that equipment with an icon within T/GFX to access that interface through the graphical interface, so you can truly control your whole network from within the master interface.
As your network grows, you can't afford to simply respond to your sites when something goes wrong, and you certainly don't want to make trips to sites to fix trivial problems when you have real network issues. The right set of remote monitoring tools will make network maintenance more proactive and help you prevent equipment failures and network outages by responding intelligently to the problems that arise in your network.
Related Topics:
Alarm Monitor Remote