Network Management Solutions Make Your Life Easier By Protecting Your Network
Are you adequately protecting your network? Are you taking the necessary steps to ensure that your network is protected from outages that are easily preventable?
Many network operators and technicians leave their network unmonitored - which leaves them exposed to outages that can cause serious problems. With the right piece of monitoring gear in place, you can avoid the inconvenience of a network outage.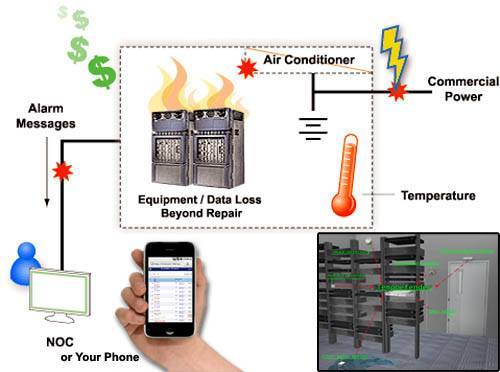 The right network management solution can notify you quickly if there's ever a threat to your equipment.
When your network goes down, you're losing money. It's as simple as that. You'll end up having to dispatch your well-paid technicians to spend hours repairing your network and replace damaged equipment. This is all on top of potentially losing customers who are angry about their service being disrupted.
You can avoid these headaches...
By monitoring your mission-critical network equipment, you'll be able to avoid having to deal with the troubles that come with a network outage. A network management solution will provide you with the ability to remotely monitor and control your gear.
Monitoring your equipment means the instant there's a threat, you'll be the first to know. If you lose power at one of your remote sites, you can get your backup generator going - rather than the site sitting dark until notices. Or if your HVAC units fail and your servers begin to overheat, you'll be alerted. This way, the temperature of your servers won't steadily rise until they shutdown - you'll know the instant they start getting too hot.
Let's look at a real-world example of how a network management solution can improve network visibility:
Axia protects the Alberta SuperNet with Advanced Alarm Monitoring
Axia is an "operator of operators," providing broadband connectivity to service providers and provincial government customers throughout urban and rural Alberta, Canada. The company separates themselves from other broadband providers by delivering guaranteed levels of connectivity. Meeting this exceptional guarantee requires exceptional network visibility.

Axia's Networks Operations Centre
To meet their uptime goals, Axia knew they needed an advanced monitoring solution. Not only did Axia need to receive detailed environmental alarms, but their business model also necessitated robust building access control. On top of the site visibility and access control Axia needed from a monitoring system, they also needed to find especially durable monitoring gear. To provide for their extensive network monitoring needs, Axia deployed a fleet of NetGuardian RTUs and a T/Mon.
The NetGuardians provide the detailed alarming that Axia must have in order to satisfy its guaranteed connectivity levels and reduce costly windshield time. Axia is also able to use the NetGuardian devices for more than just troubleshooting communication losses and fiber cuts. With the integrated Building Access System, Axia leverages their NetGuardians to control access to their POP sites, which goes a long way toward ensuring that mission-critical equipment is secure.
How to achieve this same level of visibility and control
Leaving your equipment unmonitored can be a costly mistake. Fortunately, finding the right network management solutions to help protect your network doesn't have to be a hassle. By finding the right vendor, you can give yourself the peace of mind knowing that you're taking the necessary steps to protect your network.
Picture how appreciative your customers will be knowing that you're taking the extra steps to ensure them great service. Like many other companies who have deployed a network management solution, you'll distinguish your company from the rest with a reputation for excellence, quality, and reliability.
Since you're serious about reaching new levels of network reliability and visibility, then I recommend you take a few minutes to download and read the free Network Alarm Monitoring Fundamentals White Paper.
This guide will provide you with the right foundation to choose your network monitoring solution. With this free tutorial you'll learn:
What equipment you must monitor
How to design an alarm system to meet your current and future needs
How to minimize transition costs
Get the knowledge and information you need now, so you can avoid making costly mistakes later.
Call the DPS experts today
Since you really want to protect your network the right way, you'll want to consult with the monitoring experts. Call (1-800-693-0351) or email (sales@dpstele.com) to get in touch with a monitoring specialist. You can get your questions answers, learn what kind of equipment you'll need to fully protect your network, or receive a free ROI analysis.