Lucent GTD-5: Remote Monitor This Mission-Critical Equipment
If you are a service provider, your telecom switch is one of the most important parts of your business infrastructure. If your switch fails, your revenue-generating processes simply can't happen. This is why monitoring your telecom switches is of critical importance.
Lost Switch Connections Can Cause Lost Customers
A telecom switch is a core part of your organization's communications. Larger switches provide this capability for entire networks of service providers' customers. When these switches encounter a problem, very large numbers of people are affected. This can be a nightmare for business, as too many lost connections result in lost customers (customer churn). Network alarm monitoring minimizes and can even prevent these reputation-damaging outages. These systems provide you with constant visibility of your important switch equipment, enabling you to view the full status of your network of connected devices at any time.
Advanced Systems Provide Automatic Notifications of Switch Errors
With advanced systems, you won't even have to be at your workstation to determine these changes of state. Advanced alarm monitoring masters can provide you with instant pager and email notifications automatically when a switch or other device loses connectivity or encounters an error. Instead of finding out when your entire network goes down, you will know what to do the instant repairs need to be made to a switch.
These alarm notifications provide technicians with specific details on the location of the switch or other devices, as well as repair instructions. This drastically reduces the time spent troubleshooting and repairing network problems, getting your network back online significantly faster.
Network Monitoring Enhances Switch Reliability
This type of ultra-high system reliability is what will galvanize loyalty among your current clients and attract new users to your service network. With alarm logging, you can even use your master's reports to identify switch problem trends and perform maintenance before they truly cause a major network error. This type of responsiveness will set you apart from your competitors.
When monitoring switches and other equipment, it is important to deploy advanced monitoring equipment for a cost-effective monitoring solution. The T/Mon LNX is an advanced master that will pay for itself by protecting revenue-generating uptime.
The Lucent GTD-5 is an example of a Telecom Switch
Make More Money by Monitoring the Lucent GTD-5 EAX
Considering all of the revenue generation power of the GTD-5, it is important to also consider methods to protect those gains. With network alarm monitoring, you will have constant visibility of your GTD-5 and other network devices. This allows you to protect revenues by minimizing network downtime.
Alarm Monitoring Lets You Know When your GTD-5 Has a Problem

Without alarm monitoring, you may not know for days if your Lucent switch were to fail. However, by deploying an advanced alarm monitoring system, you will receive instant email or pager updates anytime your GTD-5 and other mission-critical gear loses connectivity. These alerts will not only help you to locate problems, but will also help you quickly resolve them with the repair instructions included with every alert.
The T/Mon LNX is an advanced alarm master that provides you with these important alerts. T/Mon will instantly page or email you and your technicians to inform you of problems. It will also group all of your alarms from the entire network into one browser window. T/Mon will also group alarms by a property. This could be severity, location, or any other user-defined term. This gives you simple control of your network.
Protect Your Revenues by Deploying a T/Mon LNX
Every network manager needs to know when they have downtime. It might be due to a DMS-GSP or other gear failure. By minimizing your network downtime, you can maximize your company's revenues using network alarm monitoring.
T/Mon provides you with constant visibility of your entire system of switches and other devices. With the advanced automatic notification features, T/Mon will provide your technicians with detailed information to make their job in the field easier than ever. By speeding repairs, you will free your technicians up for infrastructure development projects, giving you the resources you need to grow and improve your network.
If you are a service provider with a telecommunication switch, you need to know about the advantages of advanced network alarm monitoring. Get to know the T/Mon LNX and the entire DPS family of monitoring equipment, and learn how you can protect your switch equipment to maximize your revenues.
Modular Design Makes GTD-5 Customizable for Individual Businesses
Lucent Technologies has a multitude of switching services with their GTD-5 EAX line of central office switching products. The GTD-5 Central Office Switch has a modular design, allowing users to customize their unit to fit into their own personal business needs. The GTD-5 makes adding customized features and services easy and intuitive for service providers who are looking to expand their service offerings to their clients.
With a single GTD-5 switch, service providers can support multiple services. These include local voice and data transmission, long-distance transmission, Internet access, and multimedia service. With these options, providers can increase their revenue generation by offering extra new services supported by the GTD-5.
GTD-5 Supports Smooth Transition from Circuit to Packet Switching
All GTD-5 switch architecture meets with the industry standard for switching gear. With open interfaces, it is easy to update the switch to support new technology. It also provides for a smooth transition from circuit to packet switching.
Do You Want to Know More About Monitoring Your Managed Switch?
Switch monitoring is very important to keep your network system up and running as it should. However, there is very little useful information available out there about choosing an effective switch monitoring system.
The Telecom Switch Monitoring White Paper provides a thorough summary of what you need to know about switch monitoring in a quick and easy-to-read format. It also contains case studies of read-world professionals within the telecom industry. These studies highlight the successful deployments of monitoring systems and the essential role of switch monitoring in real-world networks.
You'll be able to choose the right equipment, protect your revenue, cut costs, and get back to your other important job responsibilities. Monitoring isn't your only job, after all.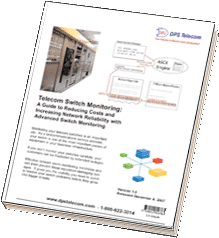 Download the "Telecom Switch Monitoring" White Paper.
Related Products:
T/Mon LNX