Monitor Your Lucent 5E and other ASCII Equipment with T/Mon SLIM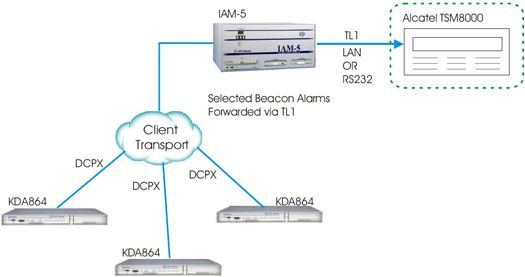 Monitor Your Lucent 5E and other ASCII Equipment with T/Mon SLIM
Equipment Used:
How This Application Works:
The TL1 alarm forwarding module will reside on your current T/Mon NOC and will allow you to forward selected alarms to your Alcatel TSM8000 alarm management system. This will allow you to have complete visibility of the microwave alarms just as you do now, but you'll gain the added advantage of 24 x 7 coverage of your beacon alarms through the TransCanada network operations center.
Please note that this module can report alarms over a serial or TCP connection, also there will be some databasing required in the T/Mon NOC to properly configure the TL1 output. Once on order, this module can ship in less than a week.
The T/Mon NOC will perform many critical functions such as collecting, filtering, categorizing & present your alarms, maintaining history, alphanumeric paging and e-email notification. One of the most powerful features of the T/Mon NOC is its ability to mediate alarms to other protocols (such as the ASCII Database and SNMP Software Module). With the T/Mon NOC, you can begin using Pager alerts and escalation. T/Mon NOC can automatically send detailed alarm notifications via pager, cell phone, PDA or email, so the right information is put directly in your hands, not locked up in a NOC console. Escalation notifications to supervisors ensure alarm acknowledgment and problem resolution.
Filter nuisance alarms to save operational time and focus efforts on serious emergencies. T/Mon NOC filters out nuisance alarms, self-correcting alarms, and oscillating conditions, ensuring staff response to serious network threats. Correlate alarms for root cause analysis. Finding the underlying cause between apparently unconnected alarms can take hours of patient detective work. T/Mon NOC simplifies root cause analysis by correlating alarms with user-defined derived alarm formulas. Derived alarms can include date/time variables and input from dozens of alarms, so you can capture any repeatable combination of events in a single alarm.