Smart HVAC Lead/Lag: The HVAC Controller G3
You can't afford poor HVAC management
Your HVACs switch on and off around the clock to keep your sites cool. They're such a big power draw that even a small efficiency boost can save a lot of money. That's why smart HVAC control is so easy to justify.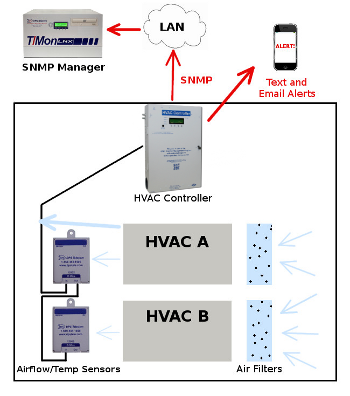 The HVAC Controller G3 monitors and controls your HVAC units. When combined with environmental sensors, it improves your environmental visibility of your remote sites.
What does a "smart" HVAC controller do differently?
A smart HVAC controller intelligently balances the cooling load between your two HVAC units (or runs both at times of high heat load).
A smart HVAC controller tracks airflow reduction over time. When it gets too low, you're alerted that it's time to change an air filter.
A smart HVAC controller helps you identify which sites need better insulation to fight outside heat.
Introducing the HVAC Controller G3 from DPS Telecom. The HVAC Controller G3 is specifically designed to monitor and control your HVAC unit(s). The RTU can manage lead/lag operations (up to 6 HVAC units) and has a testing feature that allows you to test the efficiency and health of each of your HVAC units. It is simple to install, easy to use, and can support D-Wire sensors.
Complete your system - Recommended Gear:
Temp Sensors - DPS Telecom manufactures several types of D-Wire sensors, including one that monitors temperature. A D-Wire temperature sensor will alert your RTU when the temperature is outside of your preset range. This saves you time, money, and headaches.
Air Flow Sensors - be the first to know the instant your equipment is at risk of an outage. All it takes is a well placed air flow sensor in your server room or data center to be sure that air is being properly circulated. If you're not using an air flow monitor, how do you know when your filter is clogged? You don't want an angry phone call from a customer (or your boss) to be the way you find out that there's a problem.
Full Specifications

The HVAC Interface is perfect device to work in conjunction with a NetGuardian 832A G5 to automate HVAC cycling.
| | |
| --- | --- |
| Power Input: | +24 VDC. |
| Mounting: | Wall Mountable. |
| Operating Temperature: | 32 - 140 degrees F (0 - 60 degrees C). |
| Operating Humidity: | 0 - 95% non-condensing. |
| RoHS: | 5/6. |
HVAC ROI Analysis Tool
Don't wait for disaster to strike your remote sites! Get the HVAC Controller G3 and start monitoring your HVAC units today!
For a quote, call 1-800-693-0351.
Useful Links
Cooling Strategies
Lead-Lag Cooling Optimization
Return on Investment