Graphical Monitoring: T/Mon SLIM Offers War-Room Display of Alarms With T/Mon GFX...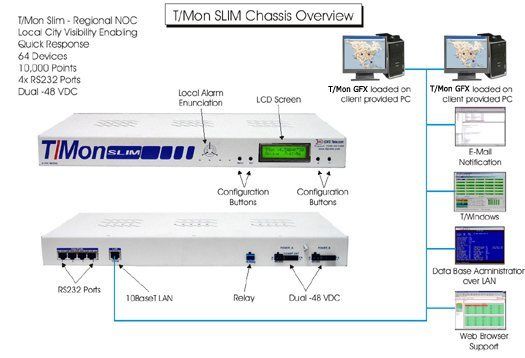 Gain intuitive monitoring with T/Mon GFX
on the T/Mon SLIM master station...
Equipment Used:
How This Application Works:
This solution consists of both software and hardware elements. The T/Mon SLIM master station will provide a central aggregation point and alarm notification. The T/Mon SLIM and will provide the best economically feasible means of monitoring your equipment and allows for future expansion of your remote sites. With a maximum capacity of 64 network devices and 10,000 alarm points, the T/Mon SLIM will be able to monitor all of your switches and main office sites. Each address/port location will take up one device in the T/Mon SLIM capacity.
The T/Mon GFX Software Module is a graphic-based application that is great for T/Mon applications where intuitive graphical feedback is required. T/Mon GFX provides a graphic display of alarm network status using maps, floor plans and other graphic representations to give operators a system visibility. T/Mon GFX can work using a centralized database across the LAN where multiple users can access the same information. Multiple T/Mon GFX displays can be supported by T/Mon software. T/Mon GFX will run on a windows based PC connected to the T/Mon SLIM via LAN and consists of a series of maps that allow users to have a birds eye view of their network. Users can then drill down on specific icons representing layers of your network. Layers could include a national, regional, local view and even a rack presentation of your equipment. It's very intuitive for the users and makes for a very impressive war room type display. Mapping software is included that reflect your local area but you may also use any graphic that can be saved as a .bmp extension.