Development of our DC Ethernet Switch
I just spoke today with Charlie at a regional phone company in Nevada. He's looking for a DC-powered Layer 2 managed switch to use at remote site.
His company has already been using NetGuardian 832A G5 RTU's for many years. The goal now is to add a switch - either as an additional 1 RU (19" rack) device below the NetGuardian or as a new version of the 832A G5 that has a built-in switch.
This switch will be installed in a large facility with plenty of rack space, so a DIN rail mount wasn't necessary yet (although a spin-off of our NetGuardian DIN design would make that easy to do).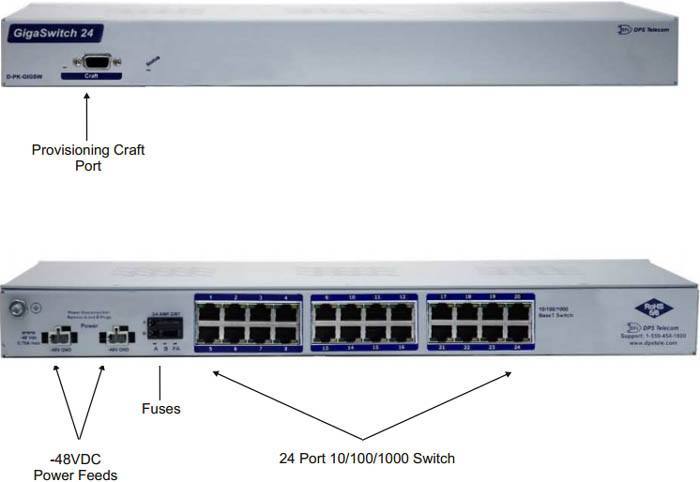 Our
existing 24-port DC-powered ethernet switch
served as the insipiration for a modified switch with Layer 2 management functions.
No matter the exact form factor, the project has several defined goals:
-48 VDC Power Supply
As I've learned over the decades designing RTUs at DPS, I know exactly what this one is about. Sure, you might have commercial AC available at a remote site, but what happens during an outage?
That's the moment when your protected DC power plant (commonly -48, +24, or +12 VDC) comes into its own. If your RTU is powered by that DC power source (ideally a redundant power input setup, with one input fed by the rectifier and another by the battery string), it will continue to operate during the times when you need it the most.
While DC power supplies are quite common for RTUs, it's rare for to see a DC ethernet switch. It's no less important, however, if you want your network traffic to flow during a commercial power failure.
I plan to also make this device available in a 24/48 vdc wide-range variant for users who want even more flexibility and reliability.
8 ports, 24 ports, or more
This particular client called me looking for an 8-port switch. He really didn't have a massive number of network devices to connect, so that would be enough. Still, we talked about a 24-port model (a capacity we had already developed previously) and even larger switches that might become necessary at larger sites.
Fortunately, this distinction is very easy for us to address with high flexibility. We'll commonly design circuit boards with plenty of real estate for a lot of parts (like LAN ports). It's very easy to skip populating a fraction of that space to make a smaller version of the same device.
Firmware is modified to detect the number of hardware ports, and metal cut files are tweaked to only have holes where ports will be.
Power over Ethernet (PoE) Switch
This is a common request for any kind of managed switch. You want a PoE switch with PoE ports to be able to power PoE devices when necessary. This reduces wiring complexity and allows you to use certain devices that are only available in PoE form.
There are different variants of PoE. The requirement here is for switches that support 30 watts to a connected device (the "IEEE 802.3at Type 2" standard, more commonly know as "PoE+"). This is superior to the older IEEE 802.3af standard that only supports 15.4 watts per device.
When you're considering a DC managed switch, PoE does double duty. Not only can you supply power to devices, but you can continue to do so with power originating from your protected DC battery plant.
SFP (Fiber Optic) Ports
It's increasingly common for a switch to include fiber connections of some kind. Network backbones are increasingly based on fiber-optic technology. This allows the backhauling of large amounts of bandwidth - which is critical to providing gigabit ethernet on many or all ports.
Charlie called me looking for a DC ethernet switch that included a pair. This will be easy to do, since our NetGuardian 216F and NetGuardian 832A G5 (as a build option) already have this technology. It will be a simple repackaging exercise for the engineering team here to insert them into the design of our new switch.
VLAN Tagging and QoS (Layer 2 Management)
We also spent some time discussing just how much of a "managed" switch was required. His two critical items were support for VLAN tagging and QoS adjustments.
VLAN tagging allows for virtual separation of network segments, and QoS support the limiting of bandwidth to each port during high-traffic periods. This ensures that bandwidth is available for devices that need it at all times.
Both of these functions are typical of what Layer 2 managed switches offer.
Some Functions Weren't Required Yet
Although we covered many topics in our conversation, we didn't discuss any strict requirements for the operating temperature range. Virtually all DPS devices operating well from below freezing to around 130 F. We have industrial components we could use to make an industrial ethernet switch that can operate down to -30 F or so and upwards of 158 F.
The Future of this DC-Powered Ethernet Switch in the DPS Catalog
I'm very much looking forward to developing this device for this one client. For some highly specialized projects, DPS looks for an order of at least 10 units or so to cover development. In this case, switches feature prominently into the purchasing of just about every entity you can imagine. This device will have such broad applicability that we'll probably develop it with even a guarantee that this first unit gets purchased.
The learning and product development pay dividends no matter what.
In fact, depending on when you read this, you might just find the DC-powered managed switch you need in the DPS catalog.
What Do You Need DPS to Make for You?
I'll never stop developing new, customized products for DPS clients. It's what makes DPS so different. Yes, we have off-the-shelf designs you can use. It's my hope to be impressive enough during Project #1 that you bring me an ambitious goal for Project #2 that we can really work on together.
Give us a call today at 559-454-1600 to tell us what you need to make your job easier.