Every new unit is inspected by a
minimum of 2 technicians
Finally, the finished product goes through a second battery of tests, run by a different technician, for an added layer of quality. Test results are logged into the DPS Production knowledge system.
A commitment to continuously increase efficiency
For Rinehart, increasing the quality, speed, and efficiency of the Production Department is a matter of meeting her responsibility to DPS clients.
"The client sets the schedule by telling us when he wants the delivery. When an order comes in the first thing I do is look at the due date and figure out what I need to do to meet or beat that delivery date. One of my main goals is to ship before the due date."
Rinehart added that DPS's Production Department has a history of continuous improvement. "We've definitely gotten faster over the years. We've learned how to use our machines better, we've learned how to schedule our time, and we've learned from our mistakes. Compared to where we were several years ago, we've improved by at least 50%." Rinehart said.
---
Get a Custom Application Diagram of Your Perfect-Fit Monitoring System
There is no other network on the planet that is exactly like yours. For that reason, you need to build a monitoring system that's the right fit for you.
"Buying more than you need" and "buying less than you need" are real risks. You also have to think about training, tech support, and upgrade availability.
Send me a quick online message about what you're trying to accomplish. I'll work with you to build a custom PDF application diagram that's a perfect fit for your network.
---
Make an Informed Decision
Your network isn't off-the-shelf.
Your monitoring system shouldn't be, either.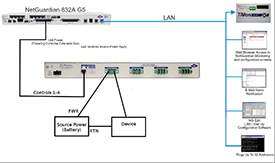 We'll walk you through this with a customized monitoring diagram.
Just tell us what you're trying to accomplish with remote monitoring.
Get a Custom Diagram