Better than Homebrew: Get a Fully Supported Custom Remote Monitoring System
Network monitoring demands customized solutions all the time, and a "home brew" solution can seem like an economical quick fix for any problem. Because you're smart and motivated, you think to yourself, "I can get this done quickly and save my company lots of money. I'll be a hero."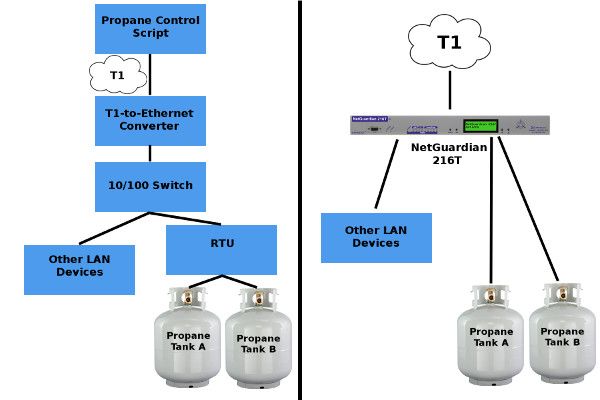 Notice the difference in complexity between a home-brew solution (left) and a custom-designed, fully supported solution from an experienced manufacturer. Trying to do everything yourself leads to big trouble, even though it sounds efficient at the beginning.
Unfortunately, homebrew solutions tend to break down when they have to be scaled up to multiple locations. You look like a hero after the first install, and now your company wants to replicate it everywhere. Get ready for trouble.
While your first site may work smoothly, you're bound to run into this long list of problems when you scale up your homebrew solution:
Discontinued parts:
While your part from some store online seems like its easy enough to find, 5 years from now, when it fails, will it still be available? When creating your own "home brew" solution, this is part of the risk you take when piecing parts together. You become responsible for your own supply chain. Even if it is available, will it still be the same? Even minor updates to the product may make it incompatible with your homemade system. You're using an off-the-shelf product in a unique way, and the manufacturer may not be accounting for that when they release new versions.
Employee-Specific Knowledge:
"Too bad George doesn't still work here. He built this thing." When you make a homebrew solution that only a few select people know how to build, operate, or fix, you can run into massive problems. Employees may come and go, but you need that system that will stand the test of time. If "George" is the only one that has the information necessary to fix a problem, sooner or later you're not going to be able to maintain your system.
Not scalable:
While most "home brew" solutions are manageable for one - maybe two sites, they crumble in larger roll-outs. You initially installed the first system, and you're now being called to do 50. Not only is that a lot to manage, but you obviously also have other work that needs to be done. Plus, you may have been able to get enough of the parts to do the first couple sites, but can you get every part for every site?
Only in-house support available:
With a homebrew solution, only those within your company can offer support. If something fails in the system, no one outside vendor will be able to help because their equipment is only one small piece of the overall puzzle.
Lack of proper documentation:
Without proper documentation, homebrew solutions are impossible to maintain. You won't have a user manual unless you write one yourself.
You need to work with a manufacturer who gives you customization without the headaches of brewing something yourself...
Now imagine a system that has the custom fit of a "home brew" solution, with the reliability of a manufactured solution. It's backed by a company with years of experience. This solution would be made exactly to your needs. There's no paying for what you don't need or compromising on what you do. This solution would also have 24/7 tech support and documentation for everything from installation to utilization to troubleshooting.
With DPS Telecom, a complete, perfect-fit solution can be yours without all the problems of typical "home brew" solutions. In fact, the diagram above is based on the NetGuardian 216T (T1-equipped RTU). It was a custom solution for Consolidated Communications in Texas. This same philosophy of customization is available for all DPS clients.
DPS offers custom manufacturing that is backed by years of experience and expertise. With DPS you will have 30 years of expert knowledge to fall back on, plus:
Parts that don't get discontinued, so you can always expand or replace damaged components.
A scalable solution that will grow with your company.
System documentation that is updated regularly and easy to read and use.
Free lifetime 7x24 tech support.
A risk-free, 30-day, money back guarantee.
Don't trust your career to a homebrew monitoring solution. We'll listen to you, build a custom solution, write a manual, provide tech support, AND give you all the credit.
To receive a price quote or ROI analysis...
Call 1-800-693-0351