In this monitoring system, we're monitoring a generator, propane tank, batteries, and HVAC. The only monitoring gear required is a NetGuardian 420 RTU and a T/Mon Master Station.
Monitoring the propane (LPG) generator

The D-Wire captures the output from the propane sensor
First of all, we have a generator running on propane. So, we took a machine-readable propane gauge and replaced the needle that was already on the tank. If your tank has a common float, it's very easy to just swap out the needle gauge. You don't have to drain the tank or do a lot of work - if there's a magnetic linkage between the gauge and the float inside - you just remove it from the top and don't even have to open the tank at all.
This propane sensor has a 0V to 5V output. We captured this output with a small D-Wire node that goes to a RJ12 port. So, the signal is being digitized and sent back to the RTU (that can actually be a couple hundred feet away). That's efficient because you don't have any gradual loss of data since it's already been digitized.
An RTU for central collection at the site
The signal is being picked up by the Netguardian RTU inside the hut, this Netguardian is the central collector at your remote location. So, we are not only picking up propane but many other alarms, like discretes - also known as dry contacts. We have 20 inputs on the Netguardian 420 (this is what the 20 on 420 stands for). And we're bringing all these in from many different equipment alarms and miscellaneous sensors, like door and motion and smoke detectors.
A temperature sensor for the HVAC
Then, we have a temperature sensor - which is another D-Wire node - next to the HVAC system. This way the D-Wire can check with the HVAC if the site is being cooled properly. Allowing an alert to be triggered if the temperature starts to rise too high.
Comprehensive battery monitoring
Finally, at the site, we have 2 battery strings and the voltage - which is an analog reading - is coming back to the Netguardian. With the Netguardian analog circuits we can observe any voltage between -90V and +90V. So, battery strings, whether they are -48V or +24V, are easy to monitor. The Netguardian in this system uses some of its analogs to take in the batteries and still have some more for other purposes.
Once all this is collected out of the tower site, the Netguardian - a LAN-enabled device - is going to communicate back over the network. And, in this case, we could've reported any SNMP manager, but this client chose to use our T/Mon master station. The T/Mon is actually polling the Netguardian at regular intervals, collecting alarm data constantly. So, if anything changes it's going to be able to alert you.
You can also see that the T/Mon is being used on a SNMP manager capacity because it can handle SNMP protocol. Some switches that the client already had are coming in via SNMP traps going into the T/Mon.
How will you get status and alarm information?
You can access the Netguardian web interface directly, but with a master station like the T/Mon you might find that there's no need for that. You can interact just with the T/Mon and see everything from every site you have, not just one site. How can alarms be rendered?

Ways to access alerts: web browser, email, SMS
T/Mon web browser: You can go to the T/Mon web browser to configure or to view the status of your network. It also has a map-based interface that you can look at. So, you can set up icons on the map and let your team drill down. You can have photographs of inside the site as well. It's a nice way to make this process more intuitive, even new-employees that never dealt with this will understand what's going on.
Emails: You can also send emails out of the T/Mon to different people about different kind of alarms. You might have a security team, a power team, a generator fuel person, and they all can get different emails for different types of alarms.
Cell notifications: Emails can also be triggered by SMS. So, you can send an email to a Verizon cell phone number using @vtext.com, for example 5594541600@vtext.com. That will allow the email to be converted to an SMS and you just get it on your phone as an alert. Nowadays, with smartphones, emails might be enough as a warning signal, but if you'd like to get a text message as a direct alert that you might notice a little faster that can be useful.
What's the next step?
This is a very straightforward monitoring system, even though we're collecting many different alarms.
You can build yourself a similar "simple but powerful" remote monitoring system for your county (or any other kind of organizaton where you have to monitor telecom sites). You just need to follow a few simple best practices.
---
Get a Custom Application Diagram of Your Perfect-Fit Monitoring System
There is no other network on the planet that is exactly like yours. For that reason, you need to build a monitoring system that's the right fit for you.
"Buying more than you need" and "buying less than you need" are real risks. You also have to think about training, tech support, and upgrade availability.
Send me a quick online message about what you're trying to accomplish. I'll work with you to build a custom PDF application diagram that's a perfect fit for your network.
---
Make an Informed Decision
Your network isn't off-the-shelf.
Your monitoring system shouldn't be, either.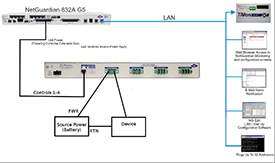 We'll walk you through this with a customized monitoring diagram.
Just tell us what you're trying to accomplish with remote monitoring.
Get a Custom Diagram