Monitor ASCII Text Alarms at your Node Sites using T/Mon SLIM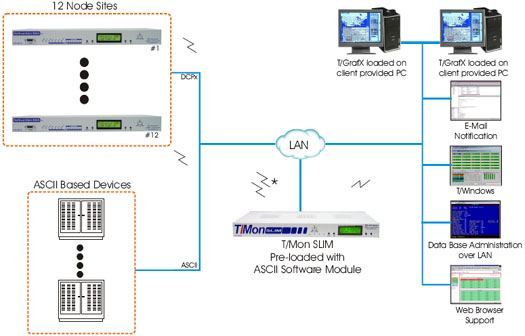 Monitor ASCII Text Alarms at your Node Sites using T/Mon SLIM
Equipment Used:
ASCII Equipment at Network Node Sites
How This Application Works:
This application features the T/Mon SLIM Alarm Monitoring Solution. The T/Mon SLIM provides local visibility, alarm filtering and alarm notification to allow you to be much more proactive in managing your network.
ASCII Software Module
The T/Mon SLIM can be preloaded with the ASCII software module that will parse the ASCII from your DMS10. The Auto data basing ASCII software will allow you to create rules to parse the ASCII output and capture the key data, then present the alarm then perform paging and email notification. This software greatly enhances the overall functionality of the T/Mon SLIM system and provides you with a single consolidated alarm management system.
The T/Mon SLIM can be remotely accessed via LAN by local PC's using the SLIM client software or without software with its easy to use GUI interface. It also comes equipped with 3 built in 33.6 modems for dial up access for those without LAN.
The T/Mon SLIM has the ability to monitor up to 64 devices and 10,000 points, which will be more than enough to monitor the NetGuardian G4's at 12 access nodes and DMS10's.