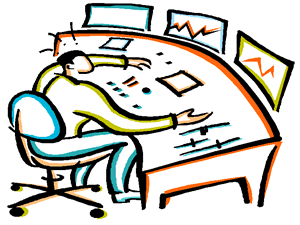 Watching too many screens
endangers your network.
9. Integrate all your remote monitoring on one uniform platform
In a lot of networks, remote monitoring is covered by several different, incompatible systems, each one sending alarms to a separate monitoring console. This can be a big mistake. Multiple systems increase the chances that network alarms will be unnoticed, forgotten, or incorrectly prioritized. You can't be sure every problem in your network will be caught, and you can't trust that all those screens full of green lights really mean that your network is problem-free.
The secure way to monitor your network is from a single platform that incorporates alarms from all your equipment, with redundancy capabilities and alternate reporting paths to prevent single points of failure. Incidentally, integration is also the cheaper way, since it saves equipment and training costs.
10. Make sure you have quality support from your network monitoring equipment vendor
Your network monitoring equipment can only be effective if it's the most reliable and trustworthy element in your network, and that requires good support from the vendor. When selecting network monitoring equipment, look for things like 24-hour technical support, quality backed by a money-back guarantee, and a client-first attitude. Inadequate vendor support can threaten your network as much as any equipment failure.
Network reliability is a competitive advantage in today's telecommunications market
We've covered some of the basic precautions you should take to defend your network against service-affecting outages. These are important security measures, but they're just the first steps to what should be your overall goal - increasing your network reliability to competitive levels.
In today's competitive market, network reliability has emerged as a key point of differentiation between telecom providers. Reliable service is what customers care about most. Research has shown that, after better deals, poor network reliability is the number one cause of customer churn.
Poor reliability drives customers away. High reliability retains and attracts customers. Putting a proactive network reliability management strategy in place now can lift your network reliability to better-than-industry-standard levels - and put you several steps ahead of your competitors.