Chapter 1: Top 10 Ways to Reduce Network Vulnerability
A solid network reliability management plan begins with a few essential precautions against network outages. Unfortunately, too many network managers don't take these precautions.
In today's competitive telecommunications environment, managers are under pressure to increase efficiencies, reduce costs - and best practices for network reliability can be lost along the way.
Here are 10 essential first steps you should take to reduce your network's vulnerability to an outage. Use this checklist to make sure you're covering the basics of sound network reliability management.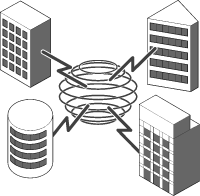 1. Make sure that you have remote monitoring of every critical piece of equipment in your network
It may sound obvious, but it isn't. Many network outages are caused by failures of equipment that no one bothered to hook up to the network monitoring system. Even the humblest piece of equipment - a starter battery for the backup generator, for example - can bring down the network if it fails.
2. Don't rely on embedded scan points to report alarms
Telecommunications equipment with built-in alarm systems is not a substitute for a genuine network reliability management system. You can't trust your equipment to monitor itself. If the equipment fails, it will take your ability to diagnose and correct the problem down with it.