Working at DPS...
At DPS Telecom, you'll work for a highly respected, industry-leading company, solve problems for national and global clients, and live in an affordable community with small-town friendliness and big-city quality of life.
Working at DPS is a massive opportunity for people with the motivation and ability to rapidly learn and use new skills. We can teach you the skills - we're looking for people with the drive and desire to succeed. Many of our employees learn more real-world skills in a few months at DPS than in several years in college.
As a team, we're fanatical about creating unrivaled value for our clients. To realize that vision, we're careful about who we add to the team.
Read DPS Employee Success Stories...
See how these determined entry-level employees found a career at DPS...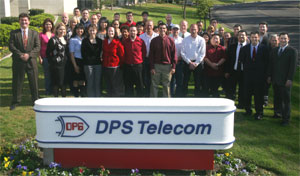 Read Success Stories...
And at DPS, hiring only the best applicants has meant something interesting. Many of our new hires share a common experience: working with teammates who didn't pull their weight.
Working at DPS is refreshing because, by design, we're a group in which everyone contributes. If you've ever had to singlehandedly "carry the team" in school or anywhere else, DPS is the work environment for you. You'll be amazed what you can accomplish with motivated and highly effective teammates.
If you want more from life than a 9-to-5 job, DPS Telecom will give you tough challenges, high expectations and exceptional opportunities. We hire only potential leaders who want to excel from Day One. You'll grow in your career and you'll grow as a person.
DPS Telecom is an equal opportunity employer and offers competitive salaries and first-class benefits, including health, vision and dental insurance and an employer 401(k) plan.