The telecom industry is all about connections. Users of telecom products - i.e. basically everyone - use them to connect to friends and family, clients and colleagues, and to connect those in need with those who can help. Telecom is vital.
But if you're in the industry, you know that connections have to extend to all your remote equipment. You need to monitor your remote sites to make sure you don't have any lengthy, damaging outages.
Your remote monitoring information needs to be routed through as standard Simple Network Management Protocol (SNMP) protocol to make sure the right information gets to the right person.
But where does that information come from? Often, this alarm data comes from one of the oldest and most common automation and communications protocols - Modbus protocol. Modbus is an open-source protocol used for many telecom and industrial electronic devices which makes integrating Modbus into your overall network monitoring system absolutely essential.
Converting information from Modbus to communicate in standard SNMP protocol helps you to stay on top of all your systems, even if they have hundreds of individual registers. It makes vast problems much more manageable. It also makes connections effective and streamlined.
How Modbus Controls the Flow of Data
Modbus is widely used between devices that are connected throughout telecom networks. As your telecom networks get more complicated, and you need more remote units, Modbus offers a way to monitor hundreds, if not thousands, of individual registers by controlling the flow of information.
Modbus works as a master/slave protocol. One master device can control one or more devices that act as slaves. That is, they don't send data until they are queried. This helps make sure that, whether you have 500 or 1500 registers in this network, your system isn't overwhelmed with data.
The problem with this is that a master can't send out data requests everywhere at once. That would defeat the purpose. So it goes on a prioritized circuit, which means polling can take anywhere from a few seconds to maybe 20 minutes, depending on the size of your network.
A large system can have a lot of different Modbus masters.
The critical concern is to get this system to work easily, and the key to that is ensuring SNMP and Modbus work together.
How Modbus and SNMP Work Together
Your alarm system is designed with one thing in mind: to make the complex simple. That means you want to:
Lower the incidence of false alarms

Get important alarms in real-time

Alert the right people to problems instantly
In short, you need to separate the signal from the noise. That's hard to do with thousands of registers, which means a Modbus system needs to be tamed, so to speak.
One way to do that is to filter all the information through a Modbox. That way, you can set up alerts or an email system based on what alarm is triggered. But like we said, there could be 1000s of alarms, and they could take five, ten, even 20 minutes to cycle through.
That's where a Modbox comes in. A Modbox converts Modbus into SNMP which enables the integration of your Modbus devices into an SNMP manager. This helps you prioritize which of your alarms you check, and when. If there are rainy conditions, perhaps checking environmental alerts is more important.
Smart Polling
There might be situations where you need to monitor system overload more than usual. You can eliminate the long, polling loop and set the protocols so that the thousands of registers are monitored in a smart and intuitive way.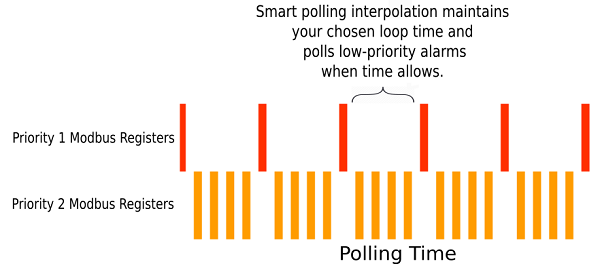 Another possibility is the NetGuardian DIN, which is an RTU that is able to poll Modbus registers. This is better for small applications when you can justify a large RTU network, but obviously can't go without some form of control.
Sites - large and small - need an interpreter where messages can be sent up via SNMP traps northbounded through an SNMP manager. The SNMP manager serves as a master to help with your Modbus network devices to ensure that your Modbus critical notifications, as well as other protocol-based device alarms, are all brought to you via a single interface. This way, you won't need multiple workstations for alarm monitoring.
What's Important For Your Modbus Communication Protocol
If you're going to convert the data from your Modbus communication protocol device to SNMP, there are a few things you have to take into account.
What's the number of registers I need?

Can this system handle them?
Keeping these considerations in mind is important. There is a lot to take into account to make sure you are connected at all times. This means you need a partner who can help you with converting Modbus to SNMP through an SNMP manager. You need someone who can implement this process because they've been there before - a partner who can get you the exact Modbus solution you need.
At the end of the day, it's crucial to make sense of the enormous amount of information received from Modbus communication protocol devices. You need a gatekeeper for your critical device notifications - prioritizing derived alarms. By converting your Modbus communication protocol devices to SNMP, you can become the master over all your alarms.
DPS Telecom has the experience and expertise to help companies monitor what matters most - including their Modbus protocol devices. Our technicians can work with you on successful Modbus conversion to SNMP protocol. Reach out and get a quote today!
---
Image courtesy Shutterstock