"DPS is giving away passes to Comptel Plus Fall 2010 in Dallas, TX..."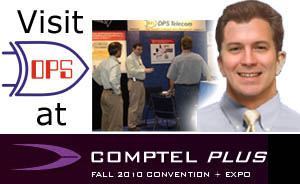 Alert: DPS has a limited quantity of show passes to give to our valued client base. Send an online request to Mac Smith using the form below (or call us at 1-800-622-3314), and we'll mail passes to about a dozen lucky people.
On September 12-15, visit the DPS Booth (#117) at the Comptel Plus Fall 2010 Convention & Expo in Dallas, TX. Andrew and Travis will be on hand to discuss the problems you're facing in your network - and how better monitoring will reduce your costs in this economic climate.
At recent tradeshow, we've had excellent conversations with both new companies and our valued client base, so attending this show was an easy choice for us. This is an ideal conference should interest anyone who needs network monitoring.
If you want to meet face-to-face with the alarm monitoring experts, this is your big opportunity in Q3 - when you're planning your 2010 year-end purchasing.
But visiting the DPS has another advantage: seeing DPS equipment operating live in a demonstration rack. The following equipment will be running at the DPS booth:
T/Mon master station
NetGuardian 832A G5
NetGuardian 216 G3
SiteMon IP Camera
NetGuardian Test Box
TempDefender IT (new)
Call 1-800-622-3314 (or send an online message to Mac Smith via the form below) to schedule an appointment at the DPS booth. This way, we'll be ready with fully customized information for you when you arrive.
For more information about DPS @ Comptel Plus Fall 2010...
Call 1-800-693-0351
For additional information please visit: Trade Show Knowledge Base