Contact closure is the term used to describe discrete alarms, digital inputs, or simply alarm inputs. Contact closures are the alarm points that can be only "ON or OFF", "opened or closed", or "Yes or No".
Contact closures may be an "old thing", but you can't ignore them. These types of alarms are very common in many different remote sites where networks are located. For example, in remote sites you'll have discrete alarms for things like:
Intrusion alarms
Structure beacons
Equipment failure
Environmental alarms
Although contact closures are a very common type of alarm in remote monitoring systems, they will only be efficient if they can reach you in a timely manner before a condition escalates into a network outage. So, your system needs to be able to transport alarm data to your master station in an effective method.
Ethernet is now one of the most common data transmission methods in network monitoring. This is because connecting your devices via Ethernet over LAN brings you many benefits, such as:
Higher speed communication
No recurring costs
Despite being a popular data transmission method, many network technicians still have many questions on how they can properly send contact closures over Ethernet. That's why, in this article, we'll dive into how the right technology allows the transmission of digital contact closures to a remote point using Ethernet.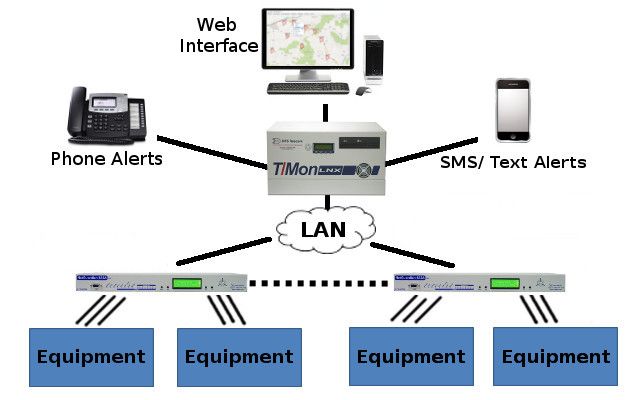 Learn how an efficient remote monitoring device is able to collect your contact closures and send it all to you - wherever you are.
Using RTUs to Send Contact Closures Over Ethernet
One of the most popular and efficient ways to send contact closures over Ethernet is using RTUs. Remote terminal units (RTUs) are electronic devices that can collect alarm information from remote sites and send it all to you or to a master station.
Through their discrete inputs, RTUs can collect contact closures and convert them to information you can use.
Discrete inputs allow RTUs to receive binary information from other devices or sensors. These inputs have two different pins that make the exchange of information possible. The first pin is wired into the device or sensor the RTU is monitoring, then the return is wired to the second pin. This allows the RTU to know when there's the presence or absence of voltage across the wire.
In other words, in the dry contact configuration, the input on the RTU is wired into a dry contact closure - meaning the circuit is closed but no electricity is provided. In this configuration, the first (output) pin of the discrete input has electric potential that can be found by the second (ground) pin when the contract relay output is closed.
In "wet configurations", the output device needs to emit a certain amount of electrical current/voltage.
When the RTU collects contact closures through its discrete inputs, it can send this information to your master station - that will display the data in an easy-to-understand format. You can find RTUs designed to send information in whatever method you prefer, such as Ethernet.

In a nutshell, an efficient RTU that supports Ethernet transport can collect contact closures from your monitored devices and transmit them to your master station, that will display them in an easy-to-read format.
If you have LAN installed at your remote sites, all you have to do is plug a standard Ethernet cable into your RTU's standard port. This way, your linked devices are able to access and share data between themselves to communicate alarm data with each other. So, your master station will receive contact closure information from your RTU via Ethernet via LAN and will send notifications to you when alarms happen - the best masters will allow you to choose the notification method that works best for you, such as text message and email.
Usually, RTUs will support both protocol communication and contact closures. This is a common hybrid strategy where SNMP, Modbus, or another protocol are used to output hundreds or thousands of detailed alarm points. This same RTU will then have a handful of contact closures to summarize alarm status as "Minor", "Major", "Critical", and "Status" severities.
How Many Discrete Inputs Should My RTU Have?
To have complete visibility over all your devices that support contact closures, you need to have an RTU that has the right amount of discrete inputs. But, the number of discrete inputs your RTU should have will solely depend on your unique remote sites and network.
Independent of that, there are three rules you need to keep in mind:
Your RTU should have at least as much capacity as you need.
You need to allow some room for reasonable growth at your remote sites.
Avoid excessive capacity that you'll never be able to use.
The bottom line here is that you should buy an RTU with capacity enough to handle all your equipment right now and in the future. But, don't waste money on a large device that is overkill for what you need. Instead, get an RTU with 10% more capacity than you have now - this will be your backup when future growth happens.
Example of RTU That Can Send Contact Closures Over Ethernet
If you decided that purchasing an RTU that can send your contact closures over Ethernet to you is something you need, then your next step is to find a competent device. So, let's take a look at an example of one.
The NetGuardian 832A G5 has support for 32 discrete inputs, so you can monitor all your equipment that sends information over contact closures. Also, the 832A G5 supports not only Ethernet but other two methods of data transfer: dial-up and serial. This is important because allows you to have alternate transmission methods, so if your Ethernet transport fails for some reason you won't lose visibility.
If you are slowly transferring your network to Ethernet, having a device like the NetGuardian 832A is important to allow for smooth integration.

The NetGuardian 832A G5 is an example of a competent RTU that can efficiently collect your contact closures and send them to you via Ethernet.
Why You Should Invest in a Customized RTU
In order to have an RTU that can efficiently transmit contact closures to you via Ethernet, you need to make an informed decision. Not all RTUs will support the capabilities that you need, such as support for Ethernet transport, or a web browser that allows you to configure your settings, or even the best notification method for you.
Because of that, it's important that you work with manufacturers that can provide you with a custom solution. When you buy an off-the-shelf product, you won't be able to get the specific features and capabilities that you need to efficiently keep an eye on your network.
With off-the-shelf devices, you might end up deploying multiple RTUs of different models in an attempt to achieve the perfect-fit monitoring solution. Keep in mind all the support, training, sparing, and purchasing hassles that grow as you add more and more different types of RTUs. The cost-effective way to handle this is to invest in a custom RTU that supports all the features you need in a compact device.
At DPS, 80% of what we build is personalized products that will attend to the unique requirements of our clients - either by modifying our existing products or manufacturing a completely brand new one. So, if you'd like a monitoring device that was designed and built with your network in mind, simply let us know. We can build to your specs.


Morgana Siggins
Morgana Siggins is a marketing writer, content creator, and documentation specialist at DPS Telecom. She has created over 200 blog articles and videos sharing her years of experience in the remote monitoring industry.