Slash Your NOC Cost - Reduce Hours Manned & Staff Experience Required
T/Mon supports advanced pager and email notifications. This gives you the option to reduce cost by manning your NOC center only 12 hours per day - or going completely unmanned. You can then transition your current staff to more valuable work.
Even if you need a 24/7 NOC, you can still cut costs with the intuitive T/Mon GFX graphical interface. It makes monitoring and dispatch so easy, you can assign less-experienced techs to do a job that used to require weeks of expensive training time. Now your highly experienced techs can handle more important duties.
NOC Cost by Hours Manned and Staff Experience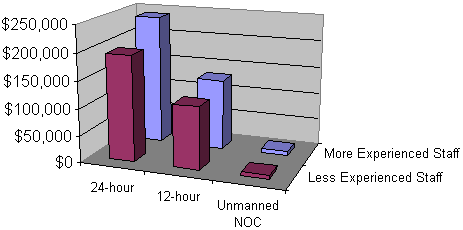 You can reduce manned hours and required staff experience with T/Mon...