"Dickey Rural Networks (DRN) Gets More Site Control with Integrated Building Access System (BAS)..."
Dickey Rural Networks (DRN) has provided telecommunications, Internet, and television services to 7 counties in the North Dakota Region and 2 counties in the South Dakota region since 1950. Over the years they've expanded their services to local and long distance phone services, custom calling features, voicemail, small and large business telephone systems, special circuits, high-speed and dial-up internet services, personal internet security services, wired and wireless network consulting, web design and hosting, business system software design, and television services.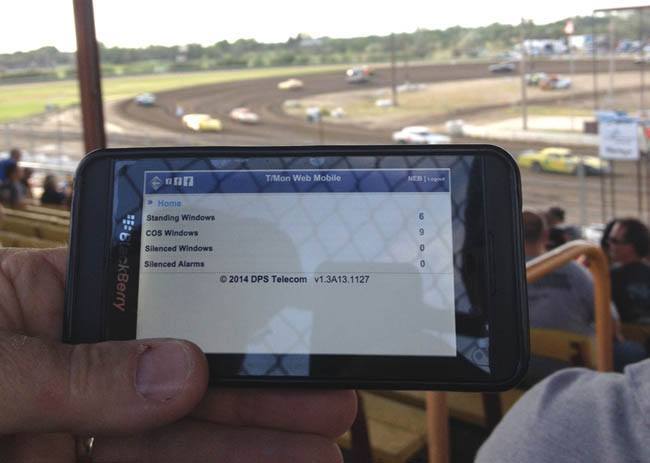 Nolan Baldwin of Dickey Rural Networks uses his iPhone® to check T/Mon's web interface from a stock car race.
"The whole concept is to see little things before they can become big things."
DRN's extensive network spans a wide geographic area of almost 100 square miles. Nolan Baldwin, a Central Office Tech, works with telephone switching equipment. He deals with gear vital to DRN's daily operations, such as backup generators and server cabinets. With this gear located at different remote sites and outbuildings, Baldwin tracks many access points for their personnel and outside vendors. Physical security over DRN's interior and exterior operations is a serious issue for him.
iPhone® and other smartphone support makes it easier to be "on call".
For Baldwin, one key feature of the T/Mon master is the web interface, which is compatible with his iPhone smartphone.
"It used to be that, when you were on call, you had to wait at home near a phone," he said. Now, Baldwin can make sure his network is "all green" from just about anywhere, including the stands of a stock car race, as you can see in the included photo.
To read part two of the story to find out how DRN uses the BAS.
(The Trademark iPhone® is owned by Apple Inc.)
(The Trademark BlackBerry® is owned by Research in Motion Limited.)