Applications
Building Access System (BAS): Applications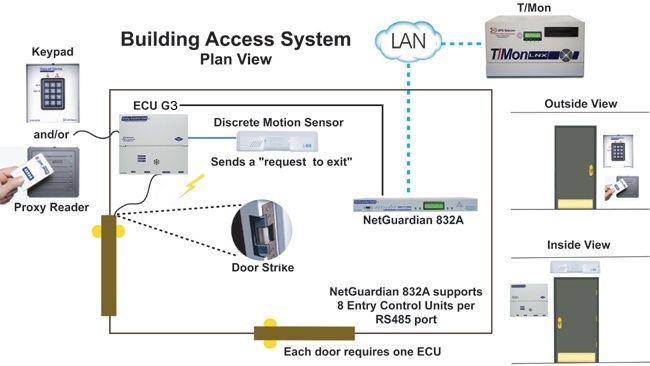 Floor plan view of using the
Building Access System
.
In this diagram, your doors are being controlled with proxy readers and/or keypads. Those entry devices are connected to an ECU G3 (Entry Control Unit), which decides whether or not the door should be unlocked after an entry attempt. It also unlocks the door for exiting people when the discrete motion sensor is tripped.
The ECU communicates back to the NetGuardian 832A RTU that is also monitoring equipment alarms and environmetal levels like temperature and humidity. The NetGuardian pushes user profiles into the ECU.
User profiles are originally databased into the system from the central T/Mon master station. The correct profiles for each site are pushed down to the on-site NetGuardian via LAN.
---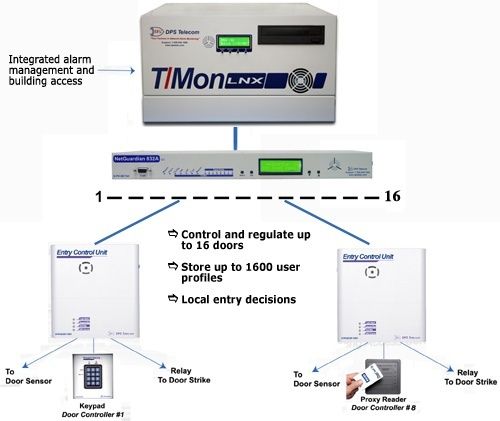 The BAS can control and regulate up to 16 door entry points.
This second diagram shows the same basic architecture in a logical view. Here, one door is controlled by the proxy reader only. The other door has a keypad.
Need a Quote?
Get it by: 4:15 PM Wednesday (tomorrow)
8:00 AM Wednesday
We'll Start Work on Your Detailed Quote
4:15 PM Wednesday
Get Your Quote (Email PDF)
It's 8:55 PM on Tuesday at our Fresno, CA, USA headquarters. It's late in the day, but we promise to start on your quote first thing in the morning.
Get a Quote