How to Implement SNMP Monitoring in Your Network: A Practical, Step-by-Step Guide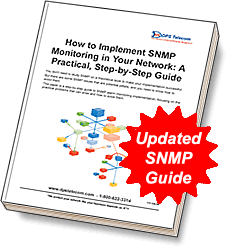 How much do you need to know about SNMP to implement SNMP alarm monitoring on your communications network?
You could spend months studying protocol architecture or MIB structure, but that's not necessary to get a monitoring project off the ground.
You don't need to study SNMP on a theoretical level to make your implementation successful.
But there are some SNMP issues that can potentially turn into pitfalls that can stop your SNMP implementation in its tracks, stretch your project over time and over budget, even reduce your overall visibility of your network - you need to know how to avoid them.
This white paper is a step-by-step guide to SNMP alarm monitoring implementation, focusing on the practical problems that can arise and how to solve them quickly.
Before you start any work on your deployment - even budgeting - you need to begin with a thorough assessment of your existing network, to determine how much of your existing transport and network equipment is compatible with SNMP monitoring. You certainly want to identify any potential replacement issues before you budget, or you may be caught short by unexpected problems. But equally, you want to take advantage of opportunities to reduce your capital expenditures by continuing to use existing transport and equipment.
Take a look at some of the industry's best practices to keep your visibility on your network up to date.
Remember that we'll NEVER sell your email address to anybody, and that's a promise! We will also send you our informative eMagazine.