Free T/Mon & NetGuardian training
November 12-15 (Tues-Fri, starting just after Veterans Day)
Butler, NJ
Video Invite:
Andrew welcomes you to Training in New Jersey (1:25)
Call 559-454-1600 to sign up.
---
What training covers:
Factory Training is a 4-day class taught by the DPS engineers who designed your remote monitoring equipment. They will cover the essentials for using T/Mon, NetGuardian RTUs, as well as SNMP and other protocols. We'll also customize class or stay late to cover anything you like.
Tues: NetGuardian RTU setup & operation
Weds: Advanced NetGuardian RTU functions, Monitoring with the T/Mon master station
Thurs: Editing the T/Mon alarm database
Fri: SNMP protocol theory and configuration with T/Mon & NetGuardians

We're flying to New Jersey so you don't have to fly to California to attend class.
Training is free
There are no fees to attend this training. You're responsible only for travel and lodging costs, which will be remarkably lower than if you came to our classes in California. We'll even take care of breakfast and lunch.
Location:

Butler, NJ is convenient for many DPS clients in and around the Tri-State Area - and accessible from several major airports.
Benefits of our Butler, NJ location:
Conveniently located near Interstate 287
Reverse commute from NYC to help you avoid traffic
If you work in NYC and live west of it, you may not have to commute into the city at all during the 4 training days
Multiple major airports are reasonably close
Reserve your seats online now:
Will you attend? Tell us how many seats to reserve for you using this simple form. We'll call you to confirm.
---
Get a Custom Application Diagram of Your Perfect-Fit Monitoring System
There is no other network on the planet that is exactly like yours. For that reason, you need to build a monitoring system that's the right fit for you.
"Buying more than you need" and "buying less than you need" are real risks. You also have to think about training, tech support, and upgrade availability.
Send me a quick online message about what you're trying to accomplish. I'll work with you to build a custom PDF application diagram that's a perfect fit for your network.
---
Make an Informed Decision
Your network isn't off-the-shelf.
Your monitoring system shouldn't be, either.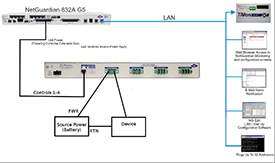 We'll walk you through this with a customized monitoring diagram.
Just tell us what you're trying to accomplish with remote monitoring.
Get a Custom Diagram