Regional Factory Training Reduces Cost, Travel Time for Attendees
Thank you to all who attended DPS Telecom's 2nd annual Las Vegas Regional Training Class.
As usual, this regional class was similar to DPS Telecom's regular class. Students attended 4 days of training on RTUs, Masters, and SNMP, with the option of a half day for ASCII.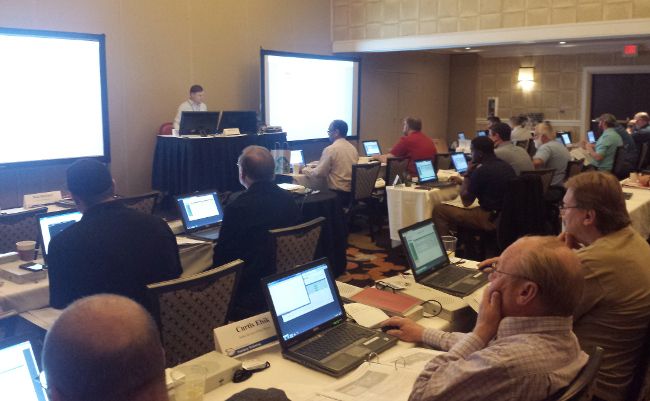 DPS Factory Training, hosted in Las Vegas, NV.
DPS engineers and experts led the class through hands-on activities and demos. The students learned to how to wire and power up DPS devices. Then they were taught how to provision their units using DPS Telecom's user-friendly, web interface.
The majority of the class focused on DPS Telecom's T/Mon Master Station. The students learned about new developments in the platform's interface and architecture, including a sneak peak of T/Mon's new set up wizards. The wizards are designed to make basic set up easy and fast.
Training is great because we not only get the chance to teach our clients about our equipment, but we also get the chance to learn from them. The opportunity to work with them in person only makes our monitoring equipment better."
-Andrew Erickson, Marketing Manager.
DPS Still Offers Training Classes at Their Fresno HQ
Typical DPS Factory Training takes place at DPS Telecom HQ in Fresno, CA. The week-long course consists of 1 day of RTU training, 2 days of T/Mon training, 1 day of SNMP and an optional half day that focuses on automatic ASCII parsing. Students learn how to get the most from their DPS equipment, directly from the engineers that design it. Class sizes vary, but normally don't exceed 12.
DPS has been hosting this training in Fresno approximately 6 times a year for over 10 years. It provides both clients and DPS the unique opportunity to work together and improve products.
If you're interested in taking a class in Fresno and seeing the DPS facility, take a look at the list below for class dates or visit our Factory Training sign up page to reserve your seat today.
Upcoming DPS HQ Factory Training Classes:
August 7th - 11th
September 18th - 20th ~ Advanced Class
October 16th - 20th
November 13th - 17th
Want to attend one of our other Regional classes scheduled for 2017? See the list below for upcoming classes or visit our Factory Training sign up page to reserve your seat.
Upcoming DPS Regional Training Classes:
Canada ~ July 17th - 21st
New York ~ October 2nd - 6th
DPS is planning to host more training classes in other major cities.
If you're interested in attending a regional training course or, if your company wants to host a DPS Factory Training Class, let us know below.
Help us pick our next training location:
Where should we hold our next regional training?
Can you host DPS training (for your company and others) at your offices?
* = required field.