How You Can Integrate Your Isolated Remote Telemetry Systems
If you're tired of hunting through multiple screens to find critical alarms, here's the solution that will integrate your isolated remote telemetry systems ...
The multiprotocol TMon / IAM Remote Alarm Monitoring System is the right solution for integrating all your separate, isolated network monitoring devices to a one-screen integrated remote telemetry solution
Select an option below to learn more about remote telemetry integration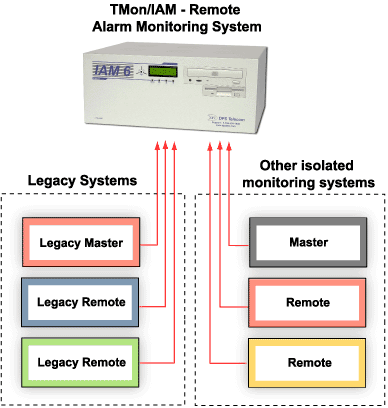 Integrating your isolated remote telemetry systems will:
Create substantial savings in initial expenditure, operational, and maintenance costs.

Save your investment in legacy remote systems

by extending their working life.
Provide advanced features like after-hours monitoring and automatic notifications at low cost.

Leverage your existing remote telemetry to provide better monitoring now and an upgrade path for the future

.
Spread equipment upgrade costs over several budget cycles, since both your current network alarm systems and new monitoring equipment are supported by the multiprotocol platform.

Bob Berry, President and CEO


"Every remote telemetry system I make is backed by my

no-risk, money-back guarantee.

If you buy my equipment and you're not satisfied for any reason during the first 30 days, simply return it for a full refund. If my product doesn't solve your problem, I don't want you to have it."

Risk-Free Remote Telemetry Systems Integration
You might be hesitant about upgrading your remote telemetry systems . Changing complex systems is hard … there's always last-minute complications … and how do you get the budget for secondary equipment?
Secure a long-term solution for your remote telemetry problems, a solution that is:
What you can achieve by integrating your isolated remote telemetry systems
To learn more about how you can integrate your remote telemetry systems, select an option below ...