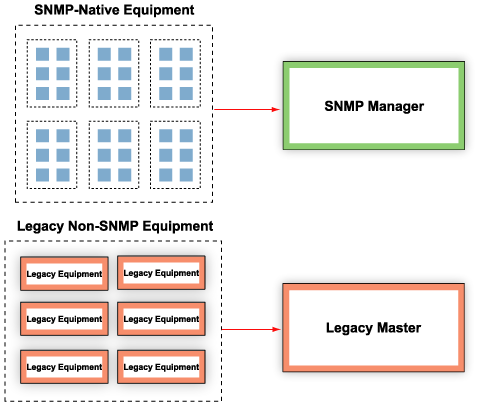 If your network monitoring looks like this, you should think seriously about a protocol mediation solution.
Protocol mediation is right for you if ...
You have implemented, are currently implementing, or are making plans to implement SNMP-based or TL1-based alarm monitoring.
You have a significant installed base of non-SNMP/non-TL1 equipment that you need to monitor.
You don't want to waste money replacing functional non-SNMP/non-TL1 equipment.
You don't want to lose network visibility of your non-SNMP/non-TL1 equipment.
It's not smart - and in most cases, not financially possible - to try to move to a completely SNMP-based or TL1-based monitoring network in one step.
The costs of equipment replacement are huge, and there's no guarantee that a purely SNMP solution will provide all the functionality you need.
Protocol mediation puts you in charge of your SNMP/TL1 implementation, reducing your costs and enabling you to maintain a high level of network visibility.
The right protocol mediation solution will convert alarms from all your older equipment - no matter what protocol it uses - to SNMP traps or TL1 autonomous messages, so you can view all your equipment from your central SNMP or TL1 manager.
With guaranteed compatibility between your older equipment and your SNMP manager, you can replace your older equipment when you choose - or you can keep it in operation for its full working life.
What equipment can be mediated to SNMP and TL1?
Switches.

SONET Equipment.

Microwave Radios.

Switches.
Microwave radios.
Routers.
SONET equipment.
Channel banks.
Channel Service Units (CSUs).
Digital Access Cross-Connect Systems (DACS).
Digital Service Units (DSUs).
Network Interface Units (NIUs).
Multiplexers.
Muldems.
Modbus devices.
ASCII printer and logger devices.
Any equipment that generates alarms in ASCII, DCM, DCP, DCPf, DCPx, E2A, TABS, TBOS, or TL1.
Older remote telemetry units that use manufacturers' proprietary protocols: Badger, Dantel, NEC, Larse, Pulsecom, Teltrac, and others.
Any equipment that generates contact closure alarms.
Infrastructure equipment connected to discrete or analog sensors: battery plants, temperature sensors, flood alarms, generators, HVAC systems, door closures, and more.
In fact, any equipment that you're currently monitoring can be mediated to SNMP or TL1 - and TL1 and SNMP can be mediated to each other, too.
And if you have any equipment that you're not currently monitoring, but you know you should ... implementing SNMP mediation is the ideal opportunity to integrate all your equipment into one umbrella monitoring system.
Show this to your boss!
If you're reading this white paper, you probably already know you need a protocol mediation solution in your network. But you might need to persuade your boss or your company's money people of the value of protocol mediation, so I'm giving you some arguments you can use.
If you'd like a paper copy of this white paper without this note, so you can show it to management without them knowing what you and I are up to, call me at 1-800-693-0351 and I'll send you a copy for free.
If you want to skip ahead to the nuts and bolts of how protocol mediation works, go to "How does protocol mediation work?"