Monitor Quest and UPS Gear with Micromuse over SNMP using T/Mon SLIM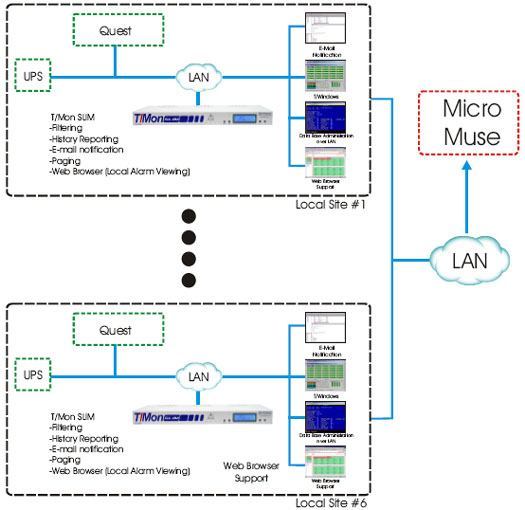 Monitor Quest and UPS Gear with Micromuse over SNMP using T/Mon SLIM
Equipment Used:
How This Application Works:
This solution features multiple T/Mon SLIM's (with CE certification) along with the SNMP Trap Processor and the SNMP Responder.
After reviewing MIB files, it was determined that alarm output would be better parsed using our Auto Databasing ASCII software module. As a result, it's included it for each of the SLIM's. Also included are a Wall mount rack for the SLIM and six 110vac to -48vdc wall transformers for powering the SLIM.
The transformer included has a standard US type 3 prong plug. It's also available in the UK 3 prong standard.
The T/Mon SLIM is ideally suited for the deployment at your remote locations providing SNMP alarm collection, filtering and forwarding as well as alarm time stamping and history detail. This distributed architecture will result in a very robust and resilient alarm management system.
The T/Mon SLIM can be preloaded with the ASCII software module that will parse the ASCII. The Auto data basing ASCII software will allow you to create rules to parse the ASCII output and capture the key data, then present the alarm then perform paging and email notification. This software greatly enhances the overall functionality of the T/Mon SLIM system and provides you with single consolidated alarm management system.
The SNMP Trap Processor Software Module will give your T/Mon SLIM the ability to receive SNMP traps from network elements and convert them to standardized T/Mon alarms so you will be able to view them. This will result in a very powerful SNMP manager because not only will your T/Mon be able to accept DCPx from DPS remotes, you will be able to monitor your other SNMP devices as well. This software module will support V1 as well as V2 devices and is very simple to use. Simply compile the MIB onto the T/Mon SLIM, select the rules for how you want to see those alarms and you've integrated those into the system.
The SNMP Agent Software module will give the T/Mon SLIM the ability to convert incoming alarms to SNMP and ultimately send the alarms via SNMP to your MicroMuse SNMP Master Station over LAN. This software module supports traps as well as query and control commands.
The T/Mon SLIM is 1 RU unit that fits into any 19" or 23" rack, in any telco environment. Dual -48 VDC power inputs allow T/Mon SLIM to be powered from the same battery power as the rest of your equipment - and give you a backup power supply in case of primary power failure.