T/Mon SNMP Manager.

Don't choose an SNMP manager that orphans all of your non-SNMP gear. No matter how modern you think your network is, it probably includes at least some legacy equipment. Many SNMP managers support SNMP and nothing else. Others can and will handle both traps and alarm messages in other protocols. To avoid the needless expense and complexity of an external translation box, you should handle SNMP and other protocols with one manager.

Another factor in your decision should be the alert methods supported by any potential SNMP manager choice. If you want your team of 10 technicians to receive individual text messages based on their assigned role, find a manager that supports that function. Maybe you want email alerts, or voice alerts, or a map display on the screens of 15 different users. Whatever you need, choose a manager that matches your requirements.

What if you already have a master that you like? Did you know that you can bring SNMP traps into a different alarm master by converting them into its native protocol? As an example, it is possible to install a Modbus to SNMP converter to bring SNMP into a SCADA master.

Finally, you may find some instances when you need to think smaller about SNMP managers. If you work on a small network (or even a small segment of large network), you may come across cases where you have limited SNMP equipment. It's not enough to justify a large manager. Maybe the site doesn't have LAN (temporarily or permanently). You need some way to monitor your SNMP-capable gear. The solution is to use a remote SNMP-to-alert device. This will be a small box (about 1 RU) that can send SMS or other alerts when certain pre-programmed SNMP traps are received. This gives you the SNMP visibility you need without requiring LAN to transmit traps.
---


SNMP Manager on Your Smartphone
Monitor SNMP on your Smartphone
Don't be stuck with an outdated manager. Modern managers allow you to manage your SNMP gear with your smartphone.
This is especially useful when your technicians are out in the field. No longer do they have to return to the NOC to get a new assignment. If you have human dispatchers, this is a chance to remove some human error potential from your operations.
It's better to choose a web interface over a dedicated app. An app must be installed. An app works with just one OS. A web interface works on most platforms without an install.
Take a minute to watch this video demo. It will show you a real SNMP manager's mobile web screens. Get a sense of what you should purchase and deploy.
---
Consider encrypted SNMPv3
You deploy SNMP RTUs at your remote facilities to collect alarm data and report it as SNMP traps. There are many different SNMP RTUs, and you shouldn't settle for anything that isn't an excellent fit for your project.
In today's environment, you need to decide whether to standardize on an SNMPv3 RTU. Unlike earlier versions of SNMP, v3 resists tampering by using message encryption. At security-conscious organizations (especially a government agencies or large corporations), this can render SNMPv1 and SNMPv2c basically obsolete.
Let's assume for a moment that you do have an SNMPv3 mandate. That presents a big challenge. Security mandates don't generally come with budget dollars to replace all your old gear. If you already have SNMP equipment in your network, it probably supports earlier versions of the protocol (v1 and v2c). That calls for a device that will convert older equipment to secure SNMPv3. The conversion is done locally within a single facility. Unsecured SNMP still exists, but it can never leave the building. Only encrypted data leaves the premises.
Remember one more thing: If you standardize on SNMPv3, you probably also have an enterprise-grade RADIUS server. If you choose an RTU that supports RADIUS login, you can take advantage of the RADIUS profiles you already have.

---
Forwarding SNMP wirelessly over GSM or CDMA networks
Let's face it: some of your remote sites don't have excellent infrastructure available. Some of them won't have LAN. That doesn't mean you have an excuse not to monitor. One little known but powerful technique is forwarding SNMP via wireless SMS. All it takes is a conversion device. You can collect SNMP traps locally at each site and forward extracted alarm data via wireless SMS text messages (GSM or CDMA).
---
SNMP stands for Simple Network Management Protocol. It is a standard protocol that various devices use to communicate with each other. Devices at remote locations (like broadcast antenna towers) can use SNMP to report problems before they grow. In corporate/government IT environments, switches and even network printers can send SNMP messages to report status information. Even though SNMP isn't truly "simple" anymore, it has become a popular standard that allows devices from many different manufacturers to communicate with each other.
DPS monitoring and control equipment supports SNMP so you're not locked into one manufacturer
At DPS, we support SNMP in all of our major product lines. That way, you can choose any other SNMP equipment you like to achieve a "perfect fit" remote monitoring system in your network. Some companies use our RTUs, some use our master stations, and a lot use both.
What else do you need to know about SNMP
We give away free information about SNMP and other technologies so you can make an informed choice:

Detect IP Device Failures with Ping Alarms
In this application, an SNMP remote pings IP network devices to confirm continued operation. If a device fails to respond to a ping, an alarm is sent as n SNMP trap to the SNMP manager. This provides immediate notification if vital, revenue-generating IP equipment like servers, routers, and gateways fail or go offline. A remote with ping alarm functionality is essential protection for IP networks.
The same SNMP remote can also monitor your legacy telecommunications equipment and environmental conditions at the remote site. Combining many monitoring operations in a single unit, a multifunctional remote is a practical and cost-effective monitoring solution for an entire site.
Many companies utilize legacy equipment in their networks, such as TABS protocol, which stands for telemetry Asynchronous Block Serial protocol.
While your legacy equipment may still work, it can be difficult to find new equipment that uses the same legacy protocols as your pre-existing equipment. If your devices can not communicate with one another properly, then your system is useless.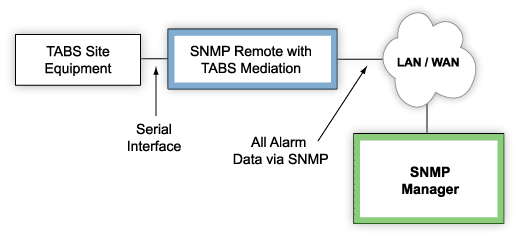 Protocol mediation allows TABS site equipment to communicate with SNMP managers by translating TABS to SNMP through an RTU.
Translate TABS Alarms Into SNMP at Your Remote Sites
The solution is Protocol mediation, which is a very simple concept. On-site equipment reporting in TABS protocol is connected via serial interface to an SNMP remote. The alarm data is translated on-site to SNMP alarm messages (traps) by the remote or RTU and forwarded via LAN to an SNMP manager. The RTU functions as a translator between the legacy equipment and the SNMP manager, allowing them to communicate.
The same SNMP remote also has standard equipment monitoring and environmental alarms. Combining many monitoring operations in a single unit, a multifunctional remote is a practical and cost-effective monitoring solution for an entire site.
Unfortunately, not all remotes are SNMP compatible, and those that are may only be compatible with one version of SNMP. Choosing an RTU that has multi-protocol capabilities is the key.
Protocol mediation allows you to continue to use valuable, functioning legacy equipment in an SNMP monitoring solution. This allows the company to replace equipment a few pieces at a time, rather than having to replace the entire network, drastically reducing costs.

The NetGuardian 832A provides comprehensive coverage for medium-sized sites. As more equipment is added to your sites, monitoring capacity can be increased by adding NetGuardian Expansion Units.
Your network isn't static - you're adding new customers, new capabilities, and new equipment, and that means that there will always be more to monitor at your remote sites. As your network grows, you don't want to be locked into a limited capacity remote that doesn't have enough alarm points to give you full visibility of your new equipment. At the same time, you shouldn't pay now for capacity you won't use until later.
The right solution is a remote that can expand with your growing network. The NetGuardian 832A has the correct capacity for most small to medium sites, with 32 discrete alarms, 8 analog alarms, 8 ping alarms, 8 controls, and 8 ports for connecting serial devices.
When you need more discrete inputs to monitor new remote site equipment, the NetGuardian can be augmented with up to three NetGuardian Expansion units. Each NetGuardian Expansion adds 48 more discrete alarm inputs. As your monitoring needs increase, so does your monitoring capacity, in a clear upgrade path from 32, to 80, to 128, to a maximum of 176 alarm points.
Each NetGuardian Expansion reports alarms through the base NetGuardian's LAN connection, maximizing your monitoring capacity without adding burdens to your transport network.

Capture SNMP Alarm Data as ASCII Text for Recording and Analysis
Your network alarm record is a tremendous resource of information about network events. Analysis of this data can help you pinpoint persistent trouble spots and anticipate and prevent future problems.
You can obtain access to this information resource by mediating your alarm data to ASCII text. An advanced master can export alarm data from your SNMP remotes to a delimited text file. The exported alarm data can be imported into a database or spreadsheet application, where it can be graphed and analyzed.

Record Alarm Data When Your NOC Staff is Off Duty
Problems in your network can happen at any time, even late at night and on holidays and weekends. Situations that need immediate attention can be sent to maintenance technicians in the form of automatic pager notifications. But you also need a record of even minor problems, which can easily grow to serious threats to network integrity if left unchecked.
ASCII forwarding of SNMP alarm data can help you keep track of events when the NOC staff is away. In this application, a protocol mediation device converts SNMP traps to ASCII text. The data is then forwarded to an ASCII-based monitoring or recording device.

The NetGuardian 832A - Versatile Functionality for Total Site Management
The NEBS-certified, LAN-based NetGuardian 832A is a comprehensive alarm collection solution for all your monitoring needs. With 32 ping alarms, 32 discrete alarms, eight analog alarms, and eight controls, the NetGuardian is designed to provide total site management. With this single, compact, one-rack-unit-sized device, you can verify that your IP network devices are online, your legacy telecommunications equipment is operating normally, and environmental conditions at your site are optimal.
Made for SNMP, The NetGuardian for SNMP reports alarms as SNMP traps to any SNMP manager, and supports multiple SNMP managers at multiple IP addresses.
With a multi-capable remote like the NetGuardian, you can monitor all the various equipment at your remote site with one remote, saving valuable rack space for revenue-generating equipment.
Create Derived Alarms From Multiple Conditions and Trigger Additional Actions and Responses.
A high-quality master can correlate alarm inputs to issue automatic control responses to initiate corrective action. In the example shown, the master detects the failure of AC power and sends a control signal to start the backup generator. You can also use complex combinations of alarms or even create alarms when events do not occur as scheduled.

More SNMP Articles:
---
Get a Custom Application Diagram of Your Perfect-Fit Monitoring System
There is no other network on the planet that is exactly like yours. For that reason, you need to build a monitoring system that's the right fit for you.
"Buying more than you need" and "buying less than you need" are real risks. You also have to think about training, tech support, and upgrade availability.
Send me a quick online message about what you're trying to accomplish. I'll work with you to build a custom PDF application diagram that's a perfect fit for your network.
---
Make an Informed Decision
Your network isn't off-the-shelf.
Your monitoring system shouldn't be, either.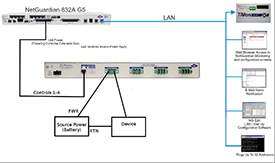 We'll walk you through this with a customized monitoring diagram.
Just tell us what you're trying to accomplish with remote monitoring.
Get a Custom Diagram