Cordell SNMP Manager Monitoring NetGuardian RTUs
Things to Consider in a Cordell-Compatible RTU
If your company is looking for an RTU to use with your Cordell SNMP Manager, there are a couple things that need to be considered before making your selection. Because the Cordell operates using SNMP, the RTU that you choose has to be SNMP compatible. The number of discrete inputs is also important. Depending on what you are monitoring, you may need only 32 discretes or you may need as many as 100+. Additionally, you may want to consider how the RTU relays information. Some RTUs come with a compatible Web Interface browser that allows you to access your RTU from any computer, giving you remote visibility virtually anywhere.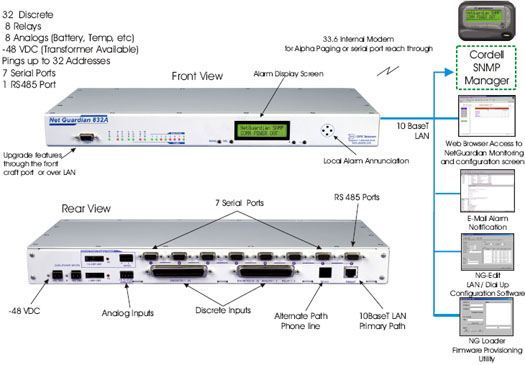 The NetGuardian 832A G5 is a great choice when considering SNMP capable RTUs to use with your Cordell SNMP manager.
Equipment Used:
NetGuardian Remotes
Cordell SNMP Manager
The NetGuardian 832A G5 RTU from DPS Telecom is an intelligent alarm remote that will be able to monitor the discrete contacts from your softswitch boxes and report those alarms via SNMP over IP to your Cordell SNMP Manager.
The 832A G5 comes equipped with 32 discrete contact points. If your monitoring solution requires more discrete contact point, then the NetGuardian DX expansion chassis is the perfect companion product to the NetGuardian 832A. It's specifically designed to expand the discrete alarm capacity only and as such, provides a substantial savings over the expense of adding another NetGuardian 832A anytime you need the extra capacity. Each DX Expansion chassis increases the alarm capacity by 48 points. Up to 3 DX Expansion chassis can be daisy chained for a total of 176 discrete alarms.
The NetGuardian offers a Web Browser interface for easy and convenient centralized alarm management and unit configuration via Web Browser that can run on any platform or operation system. This means if you get notified of an alarm away form your normal workstation you can go to the nearest computer (with internet access) and log onto the NetGuardian. The user friendly interface allows complete access to all the functions of the unit and enables the user to quickly set up alarm point descriptions, view alarm status, issue controls, and configure paging information, as well as additional options.