This Trap Relay Device Converts SNMP to Contact Closures
Nowadays, more and more equipment only uses protocols such as Simple Network Management Protocol (SNMP), Modbus, or Distributed Network Protocol (DNP) to output alarm data of managed devices. These protocols are not contact-closure based.
Contact closures are known as alarm inputs, discrete alarms, or digital inputs. Discrete alarm points are those which can be measured in terms of "On/Off", "Opened/Closed" or "Yes/No".
So, if you have an SNMP-based network, figuring it out how to monitor all your network devices that don't support SNMP is critical. These gear can be legacy telephony equipment, battery plants, generators, security locks, temperature sensors, etc.
Basic network gear like this usually offer an old-fashioned, standard telemetry interface. This may be either a contact closure or an analog voltage. It's key to monitor these vital network elements. If any one of them fails, it can bring your whole network down. That means you need to add these simple inputs into your SNMP network management system.
One tool that works for that purpose is the Trap Relay.
Internal Alarm Mapping to Relay Outputs
The Trap Relay mediates contact closures (equipment alarms, doors, motion, water leaks...) and analog inputs (generator voltage, fuel gauge reading...) to SNMP traps.
So, whether you have a fire alarm control panel or any other piece of gear that only takes in contact closures, the Trap Relay device will fix this gap and translate SNMP to contact closures.
The following diagram shows how it works.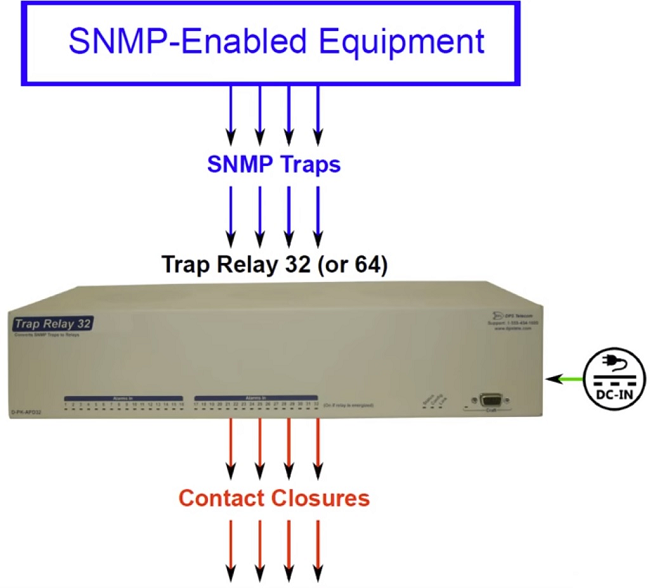 The Trap Relay will act like a translator; detecting SNMP traps, processing them, and sending them out as Contact Closure
At the top of the diagram is the SNMP-enabled equipment sending SNMP messages (called traps) - in different SNMP versions - to the Trap Relay 32 device. It is important to set up the different traps that you are looking for in the Trap Relay's web interface. For instance, you might want to specify an Object Identifier (OID) OID or a variable binding that the device will use to identify incoming traps. For example, in the case that the Trap Relay spots Trap number 6 then it is going to latch Contact Closure number 6. If the device spots Trap number 10, it will latch a Contact Closure number 10, and so on.
Trap Relay conversion process:
SNMP "Alarm" Trap Received
Corresponding Control Relay Latched
SNMP "Clear" Trap Received
Corresponding Control Relay Released
The Trap Relay device has 32 different traps, so there are 32 relays that it can latch. Each trap must have a corresponding clear trap configured. The clear traps are responsible for sending the command to release, making it possible to latch and release relays in reaction to inbound SNMP.
With its control relays, you'll be able to remotely control any device that you normally operate with a button or a switch. The relays will release or latch a contact closure based on the commands it receives. Relays are perfect for turning on small devices, opening doors, interfacing to legacy alarm systems, etc.
The Trap Relay is operated in Granular Mode, which allows the user to configure each relay to operate or release based on the enterprise, generic trap, and specific-trap information of SNMP. This mode is very general and can be used with most devices. If you have a specific device you want the Trap Relay to be configured with, contact the engineers at DPS Telecom to have a mode created for your specific devices.
Additional Alarm Monitoring Capacity
For double the capacity, there is also the Trap Relay 64. This is the same device, but instead of 32 it will take 64 different traps, latching and releasing 64 different relays.
The new Trap Relay RTUs process up to 64 uniquely defined SNMP traps and converts them to internal alarms for other notification methods. For example, SNMP events can be mapped to a relay, which in turn can be used to provide audible or visual notifications or to interface at a hardware level to the inputs of other monitoring equipment. This makes for an easy and seamless integration into any monitoring equipment you may already have deployed.
In one of this device's several applications, it can operate as a standalone RTU and report alarms to your T/Mon via either LAN or alternative path (Dial-up and cellular) where no other transport options are available (or are temporarily non-functioning).
The new trap processing RTU also comes standard with NetGuardian 216 alarm capacity. This gives you 16 discrete points, 6 analog inputs (4 are user-definable, the remaining 2 are for battery monitoring), and 2 or 18 (build option) control relays. You'll have the monitoring capacity for a small to a medium-sized site in addition to the trap processing capabilities - giving you ultimate coverage at your sites, without costing you a fortune.
Due to its output capacity, the Trap Relay is a big device. It has a 2 RU chassis, so it is two racks units high. It does fit into a 19 or 23 inch rack, and both sets of ears are included in the box.
DC input is available at:
-48V DC
+24V DC
+12V
110/220V AC (wall transformer included)
Other DC voltages (call 1-800-693-0351)
What Are The Real Benefits of The Trap Relay?
The Trap Relay allows you to bring SNMP gear under your existing monitoring umbrella where you couldn't before. Alternatively, you can manually control it via a web interface and simply take advantage of its control relays. In either case, that means you no longer have to drive long distances just to perform simple tasks like rebooting or turning your equipment on/off. This will save you and your technicians time and money while also improving productivity.
The Trap Relay also features an easy-to-use web interface - so you and your team can focus and important projects and not get bogged down in a needlessly complicated interface. You can access the Trap Relay's graphical interface from any web browser - meaning you'll be able to manage your network of alarms from any computer.
All DPS Telecom products come with first-class 7x24 tech support. If you're ever experiencing a technical problem with your DPS equipment, you can always call to get the emergency support you need.
You'll also get a durable, rugged design of the Trap Relay. It's built on industrial-grade hardware. The metal chassis houses the critical components and it's powder-coated for rust and scratch resistance.
You probably have older equipment that doesn't support SNMP. You might have new security standards that require SNMPv3 and don't allow unencrypted SNMP v1/v2c.
For these situations, you need a device to bridge the gap between new and old equipment, as well as new and old standards. When your equipment spans multiple generations of technology (this is true at 99% of companies), you need conversion/mediation devices to bridge the gap. Throwing out your entire system and building a new one every time technology evolves just isn't feasible.
At DPS, we receive many urgent quote requests after an earlier "Do Nothing" decision comes back to bite you. You have no reason not to be proactive (and maybe you'll manage to impress your boss).
Call us. Chat with an expert for 10 minutes. We'll email you a detailed quote with a custom application drawing. We'll even include a summary of business benefits you can use to justify your project budget.