What Does HMI Stand For? Learn the HMI SCADA Meaning
A Supervisory Control and Data Acquisition (SCADA) system is a computer application. This system is used to monitor and control equipment or industrial processes at large remote sites, acquiring real-time data. For the oil and gas or water treatment industries for example.
The term "SCADA", as it is normally used, refers to a centralized monitor and process control system of a complete network. It sometimes refers to an individual site that covers a long distance as well.
SCADA software systems are an aggregation of many different devices. These devices include sensors, Remote Terminal Unit (RTU) or Programmable Logic Controller (PLC) for example, and an HMI station.
Human-Machine Interface Communicates Status and Alarm Information
SCADA systems require a Human Machine Interface (HMI). HMIs are also known as MMI (Man-Machine Interface), OIT (Operator Interface Terminal), LOI (Local Operator Interface), or OT (Operator Terminal).
The HMI graphical user interface presents acquired data from Remote Telemetry Units (RTUs) and Intelligent Electronic Devices (IEDs). It also gives you control capabilities over RTUs / IEDs or connected equipment. The SCADA HMI system is a core component of a Remote Monitoring and Controlling System.
These supervisory systems can be quite large and spread over vast geographic areas. They can also be small, sometimes limited to a single manufacturing facility.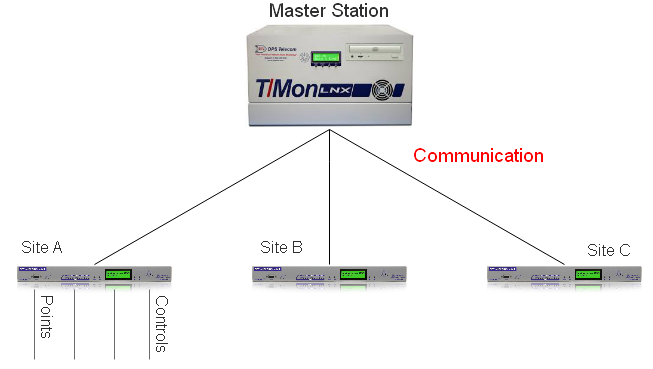 Network topology of SCADA architectures: Remote Telemetry Units (RTUs) or Programmable Logic Controllers (PLCs), SCADA master units, and the communication system.
An HMI SCADA system, or SCADA Master, can provide a number of helpful extensions for network alarm management of monitoring equipment. If connected to an RTU, the gathered data can be filtered, analyzed, and monitored against functional standards. Out-of-range data can generate alerts to operators or maintenance personnel as required.
HMI Presents Alarm Data for Management
The HMI doesn't gather the information from the SCADA monitoring equipment, but it reports it to network operators visually. Think about how you would look at your thermostat at your house to check and control the room temperature. Network operators use an HMI to check and control the temperature, but of a water tank for example.
When an alarm occurs, an HMI presents the SCADA data in a form that is usable by the human network operator. By looking at the HMI, the operator can quickly make informed decisions about any required response from a few comprehensive windows. An example of HMI is the DPS Telecom T/Mon master alarm system.
This comprehensive window allows operators to see a comprehensive view of the entire SCADA system. The HMI software can also provide detail about any alarm when the operator makes a request through the human machine interface.
One of the most important functions of a SCADA HMI is to process all the data gathered from the sensors. The HMI can generate report logs that summarize historical trends to indicate possible future problems along with the network.
Advanced SCADA HMI Applications Display Graphical Representations of Alarm Status
A master station installed within the SCADA system frequently will include a drawing program that can be used by network operators. The graphic representations provided by these drawing programs can be very simple or extremely complex. It depends on the makeup of the network and the level of detail desired.
For example, a SCADA HMI drawing program could provide an illustration of a traffic light that is monitored on the network. The light would be shown on screen as drivers see it on the road: switching between green, yellow, and red accordingly.
That is why efficient HMIs will usually be a web-based, graphical layout of the entire system. The layout will normally contain gauges, lights, field devices, and controls. All of which should be represented in the same location they are at the remote sites.
Gauges normally show the normal range of operation. The lights might show if a determined machine is working or not, it can also indicate the presence of faults. The controls can send instructions to RTUs and PLCs, which in turn control the machine and do the operator's command.
Master stations are critical SCADA devices within a network monitoring system. Without an HMI, operators would be unable to see or act upon the data gathered by RTUs and individual sensors. An HMI program allows operators to understand this data, as well as provide operators extensive reports related to network alarms.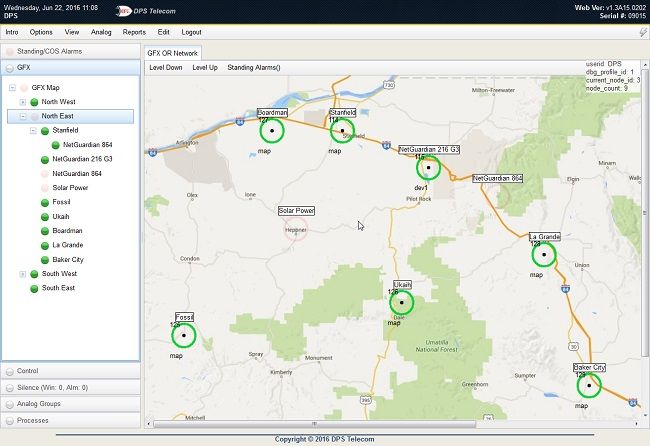 HMI SCADA screen example. To sample HMI screens just contact us and ask for a demo.
What to Look for in a SCADA Master
Your SCADA master should display information in the most useful ways to human operators and intelligently regulate your managed systems. Here's a checklist of SCADA master must-haves:
Flexible, programmable response to sensor inputs
Look for a system that provides easy tools for programming soft alarms and soft controls. Reporting complex events that track combinations of sensor inputs and date/time statements and programming control responses to sensor inputs.
24/7, automatic text and email notification
To make your HMI send you immediate alerts, you need to have access to automatic 24/7 notification methods. This way, if your equipment needs human attention, your SCADA master can automatically text or email your repair technicians.
Detailed information display
You want a system that displays reports in plain English. It should provide a complete description of what activity is happening and how you can manage it.
Nuisance alarm filtering
Nuisance alarms desensitize your staff to alarm reports, and they start to believe that all alarms are nonessential alarms. Eventually, they stop responding even to critical alarms. Look for a SCADA master that includes tools to filter out nuisance alarms.
Expansion capability
A SCADA system is a long-term investment that will last for as long as 10 to 15 years. So you need to make sure it will support your future growth for up to 15 years.
Redundant, geo diverse backup
The best SCADA systems support multiple backup masters, in separate locations. If the primary SCADA master fails, a second master on the network automatically takes over. There will be no interruption of monitoring and industrial control systems.
Support for multiple protocols and equipment types
Early SCADA systems were built on closed, proprietary communication protocols. Single-vendor solutions aren't a great idea - vendors sometimes drop support for their products or even just go out of business. An HMI designed to support multiple open protocols safeguards your SCADA system against unplanned obsolescence.



Download the SCADA Tutorial White Paper