Moundridge telephone
Moundridge Telephone Provides Voice Notifications And Greater Visibility For AFC, Metaswitch In A Single RU Solution
Ken Richards works for Moundridge Telephone, providing telephone and internet services to the people of Moundridge, Kansas.
In early 2010, Richards wanted to get voice alarm notifications for one of his sites, but there weren't many solutions available at the time beside a small, voice alarm reporting remote with minimal inputs. So Richards came up with his own fix: he bought a NetGuardian E16 to work with a second, separate voice-reporting alarm remote to send voice alerts to his phone. "We had the NetGuardian E16's relays setup to activate alarm inputs on the [voice reporting alarm remote]."
The NetGuardian E16 in echo mode received alarms from equipment at the site and echoed them to relays, which activated alarm inputs on the small voice alarm reporting remote. The small voice remote would then send voice alerts for the alarms at the site. It was a complicated setup, and the small voice remote was a bottleneck, limiting the site's visibility.
"You know, there's only 4 alarm inputs on the [voice reporting alarm remote]," Richards says of the old setup. The voice alarm reporting device, with its 4 alarms, could only provide a single major and minor alarm each for the site's AFC and Metaswitch, which just wasn't enough. Richards wanted greater visibility at his site while still being able to receive voice alarm notifications.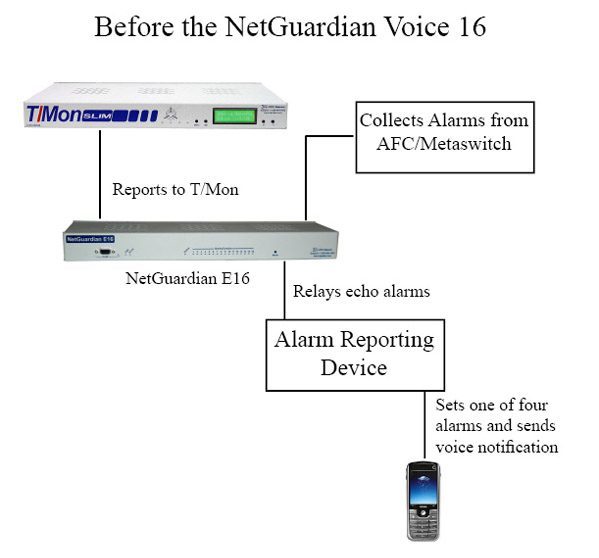 The E16 with a Small Voice Reporting Device provided limited voice notifications for the site
"Now that this system is developed, rather than going through the hassle of using the E16 to activate the [voice dialer remote], DPS swapped me out for the V16."
See the solution: read part 2 of the story...
Need a Quote?
Get it by: 6:45 PM Tuesday (today)
7:15 AM Tuesday
We'll Start Work on Your Detailed Quote
6:45 PM Tuesday
Get Your Quote (Email PDF)
It's 7:10 AM on Tuesday at our Fresno, CA, USA headquarters. We can start on your quote right away.
Would you rather just call us? We're in the office right now. Call 1-800-693-0351.
Get a Quote