Castle Rock SNMP Manager Monitoring NetGuardians over IP or PPP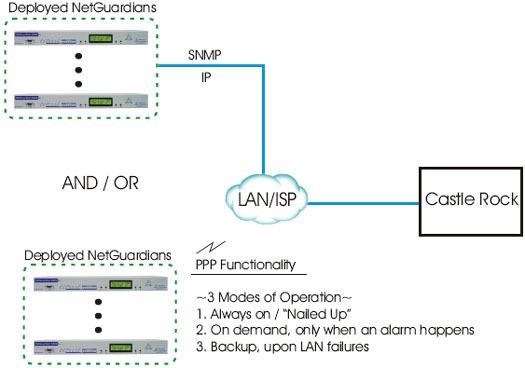 Castle Rock SNMP Manager Monitoring NetGuardians over IP or PPP.
How This Application Works:
Equipment Used:
This NetGuardian application allows you to report SNMP alarms to your existing CastleRock manager over a phone connection.
It features the NetGuardian 832A complete with standard Point-to-Point Protocol (PPP). This will allow the NetGuardian to use it's integrated POTS modem to dial out to a Internet Service Provider (ISP) and establishing a LAN connection. This will allow the NetGuardian to report alarms via SNMP to your Castle Rock manager.
As your sites move away from phone connection to standard IP, the NetGuardian will be ready. It features a POTS modem, and also a Network Interface Card (Ethernet) that will allow it to transition to IP easily. The best part is that the POTS Modem can still be enabled as a form of alternative path reporting in case of an LAN outage.
We have 2 primary ordering options for the NetGuardian:
Option 1 features the full-fledged NetGuardian 832A G4. This version of the NetGuardian G4 is the most basic, with the ability to monitor 32 alarm points, 8 Analogs, 8 controls. The NetGuardian G4 has 7 serial reach through ports, and a single RS485 port available to support enhance monitoring expansion devices.
Option 2 is the NetGuardian-C G4, it is identical to Option 1 except that some of its alarm capacities reduced. It has 16 alarm points, will let you operate 2 relays, and features 4 serial reach through ports. It still has the same great functionality, but keeps an eye on the future with the capability of expanding into a full blown NetGuardian with a few key strokes.
We're able to provide a web presentation on our NetGuardian 832A to you and your entire team to get everyone up to speed quickly on this solution.