The DPM provides 16 discrete alarms, 4 analogs, and 2 controls.
Monitor and control your critical equipment through 24/7 alarm notifications. Know when and where your alarms are being triggered. Deploy the Discrete Point Module (DPM) today! Call and speak to one of our Sales Engineers to if the DPM is the right unit for your monitoring needs.

---
Get a Custom Application Diagram of Your Perfect-Fit Monitoring System
There is no other network on the planet that is exactly like yours. For that reason, you need to build a monitoring system that's the right fit for you.
"Buying more than you need" and "buying less than you need" are real risks. You also have to think about training, tech support, and upgrade availability.
Send me a quick online message about what you're trying to accomplish. I'll work with you to build a custom PDF application diagram that's a perfect fit for your network.
---
Make an Informed Decision
Your network isn't off-the-shelf.
Your monitoring system shouldn't be, either.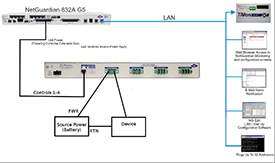 We'll walk you through this with a customized monitoring diagram.
Just tell us what you're trying to accomplish with remote monitoring.
Get a Custom Diagram