NetDog 82 BW - The Independent RTU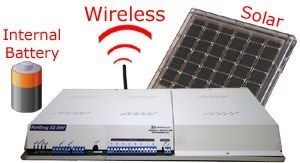 This independent RTU can help sustain your network visibility even during an outage with 10+ hours of battery-backup power and wireless alarm reporting.
Play Video


With an internal rechargeable battery and wireless reporting option, network connection failures and power outages are simply no match for the NetDog 82 BW. This variant of the NetDog 82IP G2 provides emergency visibility recovery in just 1 rack unit.
The NetDog 82 BW features 8 discrete alarm inputs 2 control relays, and 2 analog alarm channels - perfect for monitoring your small-to-medium sites. Internal alarms on the NetDog 82 BW will notify you if power is ever lost on-site or if it's you're low on battery.
The NetDog's wireless connectivity option, via GPRS or CDMA, lets you choose to wireless as your primary alarm reporting path (where a LAN or serial connection is unavailable), or as an emergency backup transport.
Here's what the new NetDog 82 BW can do for you:
New rechargeable internal battery to survive power interruption at remote sites
Wireless connectivity via GPRS or CDMA offers an emergency alarm reporting path (optional)
Internal alarms for both power source cut-off and low battery notification
2 Analogs for monitoring humidity, voltage, etc. and 2 temp sensors (1 internal / 1 external)
Built-in web browser for easy configuration and monitoring
24/7 pager and email alerts - No master needed
Reports to multiple SNMP managers and the T/Mon NOC simultaneously
SNMP and DCPx support and robust message delivery
Got a generator? The NetDog makes a great generator monitoring solution, even stand-alone without a master...
Video Review: NetDog 82 BW
On this episode of DPS TV, Carina and Andrew introduce the NetDog 82 BW. Hear about and see some of the its key features. If you think the NetDog 82 BW is the right solution for you, please contact our Sales Engineer today. Call 1-800-693-0351 or email salespo@dpstele.com today.