AC Version of the Remote Power Switch
Click here for the DC Version
Using any PC on your network, you can operate controls, check temperature at the site, and keeps tabs on power consumption - all without rolling a single truck.
One feature that makes this power switch special is SNMP compatibility.
To control several devices at one location use the expansion port on the back of the unit to daisy chain many Remote Power Controllers together. Linked switches will act as a single unit, making them easy to control using the web interface.
For added environmental visibility, the Remote Power Controller also monitors internal and external temperature, as well as current draw for each input. This is especially critical at your unmanned sites, where you need to detect and respond to network issues remotely.
Here's What This Power Controller Can Do For You:
Switch on/off and reboot equipment, right from your desk chair
Drastically cuts down on expensive truck rolls - Quickly pays for itself
Available with 2 AC Inputs + 3 AC Outputs each

OR

1 AC Input + 8 AC Outputs
Built-in D-Wire Sensor port to monitor an external sensor
2 Build Options: RTU version with 16 discretes, 4 analogs & 2 controls OR only AC switching power
SNMP-compatible - Send SNMP traps and/or receive email notifications
Cascade several units together as one logical device using the base unit's IP address
Enable/disable remote access to the unit for on-site troubleshooting
Secure web browsing (via SSL encryption) for security-conscious organizations
Built-in temperature monitoring to track changing environmental conditions
Monitors current draw - See how much power is flowing into each input
RoHS 5/6 compliant
---
Get a Custom Application Diagram of Your Perfect-Fit Monitoring System
There is no other network on the planet that is exactly like yours. For that reason, you need to build a monitoring system that's the right fit for you.
"Buying more than you need" and "buying less than you need" are real risks. You also have to think about training, tech support, and upgrade availability.
Send me a quick online message about what you're trying to accomplish. I'll work with you to build a custom PDF application diagram that's a perfect fit for your network.
---
Make an Informed Decision
Your network isn't off-the-shelf.
Your monitoring system shouldn't be, either.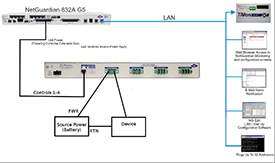 We'll walk you through this with a customized monitoring diagram.
Just tell us what you're trying to accomplish with remote monitoring.
Get a Custom Diagram