TL1 Alarm Monitoring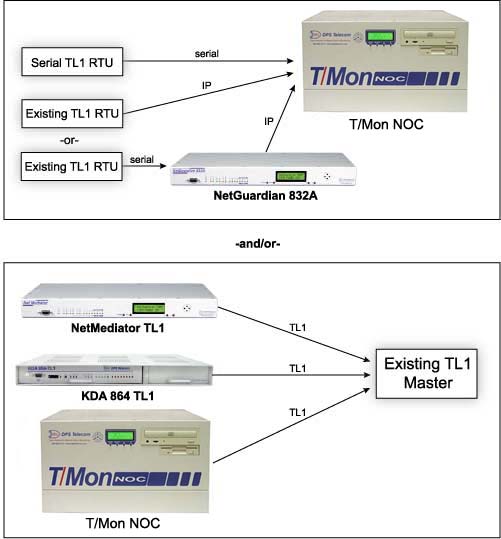 TL1-based monitoring integrated into a total network alarm management solution
TL1 is used throughout the telecommunications industry, in SONET and access infrastructure, network management elements, and operational support systems (OSSs). Wherever TL1 fits into your network, DPS Telecom offers a TL1-based monitoring solution, with products for collecting alarms from TL1 devices, reporting discrete and analog alarms as TL1, and mediating other protocols, like SNMP, to TL1.
All of our TL1 solutions fit into a total single-platform network alarm management system, giving you one uniform platform for viewing, acknowledging, and managing alarms.
TL1 over TCP/IP improves communications speed and reliability and reduce costs
Our line of TL1 products provides support for collecting, mediating, and forwarding TL1 messages over dedicated circuits or TCP/IP. TCP/IP transport offers several benefits over traditional dedicated lines: increased speed, automatic recovery for dropped or lost data, and compatibility with any computer system, eliminating the need for proprietary telemetry monitoring systems.
Another great advantage of TCP/IP transport is its low cost. The price for a dedicated copper line for each TL1 device can be eliminated by the ability to report alarms over existing LAN/WAN infrastructure.
TL1 alarm collection solutions
The KDA-TL1 is an alarm and control remote with 64 discrete alarm points and 8 control points. It reports alarms via pagers and to an OSS in TL1 over TCP/IP when equipped with a Network Interface Adapter (NIA) card.
The NetGuardian is an alarm and control remote with 32 discrete alarm points, 8 controls and 8 analogs. It reports alarms to pagers, e-mail, DCP masters, multiple SNMP managers and multiple TCP ports. It features a web browser interface for user-friendly monitoring and provisioning. It also acts as a terminal server for 8 serial ports, providing reach through access via TCP/IP to a proxy port for each device. Using the proxy ports of the NetGuardian, legacy equipment reporting TL1 can be mediated to your existing LAN/WAN.
TL1 monitoring solutions
The T/Mon NOC is a multi-protocol, multifunction network alarm manager designed as a single-platform solution for all alarm monitoring applications. The T/Mon NOC collects alarm data from a wide variety of equipment, regardless of manufacturer or protocol, and displays the state of your entire network in one interface, eliminating the need for specialized terminals.
In the case of TL1 monitoring, the T/Mon NOC eliminates the need for laborious interpretation of TL1 messages. The instant a TL1 alarm is generated, the user is notified with a blinking, color-coded icon based on its severity. The T/Mon NOCs customizable displays present network events in plain English, in terms that your staff will immediately understand and take action on. The T/Mon NOC interface is easy to use and ensures that system operators will have the right information to take corrective action in an emergency.
TL1 mediation and forwarding
The T/Mon NOC can not only receive TL1 from serial and TCP/IP transports, it can also mediate other protocols and report them in TL1 to a higher level network master over serial or TCP/IP transports.

top
---