Monitoring Temp in Your IT or Telco Environment
High temp is one of the biggest threats you face in keeping your network equipment online. If your systems overheat, they'll automatically shut down (if you're lucky), cutting off service for all of your customers/users. If you're unlucky, you might even suffer preventable equipment damage because you weren't monitoring temp properly.
That's why it's so important to deploy some kind of temperature monitoring device in your server room, data center, remote site, or other mission-critical location. Knowledge really is power in the fight against overheating equipment.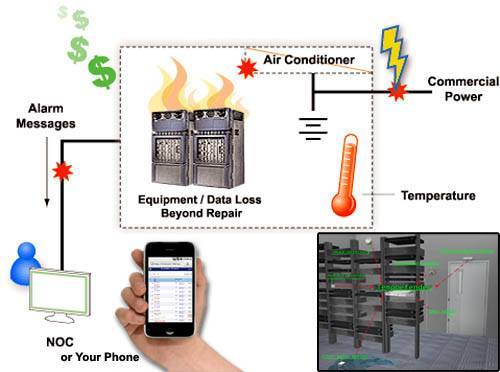 The diagram above shows a TempDefender IT device that will monitor temperature, humidity, and other critical values in your server room, data center, or remote network site.
Consider these 2 scenarios:
Your HVAC climate control system fails and you don't have any monitoring in place to notify you. As you continue your work and handle your other responsibilities, the unmonitored temp begins to rise. A few hours later, the situation has become an emergency, but you still don't know about it. Soon after, the room temp reaches a level that causes a key piece of gear to shut down. Your angry customers begin calling in to report the problem. How can this be allowed to happen?
Your HVAC climate control system fails, and your remote monitoring device send a message to your phone within a few seconds. You're also able to monitor the temp as it begins to rise, so you prioritize the repair with your other responsibilities. The problem is fixed promptly, and your customers never suffer through any loss of service.
Comparing these two scenarios, you should recognize the importance of gear for monitoring temp in your IT/telco locations. Also, consider that a simple monitoring device will generally pay for itself several times over after preventing just one incident. You simply can't afford not to protect your revenue stream by monitoring temp effectively.
What does it take to monitor temp?
The answer: not much at all. Obviously, the most basic temperature monitoring system in the world would be a thermostat-style sensor that sends you a notification when the temp "crosses the line" and becomes a problem. This is infinitely better than failing to monitor temp at all, but there are solutions that give you better information.
The first improvement you can make is to your temp sensor technology. Analog temperature sensors measure temperature with much finer detail than an "OK or too high" sensor. With an analog sensor to measure temp, you can check the temperature in your server room, data center, remote telecom site, etc. any time you wish. Look for a sensor that's within a single degree of being accurate ("+/- 1 degree").
Second, you can improve your temp monitor results by using a monitoring device that sends the right kind of alerts when temperature falls out of tolerance. The "right" kind of alerts will vary based on the structure of your organization. If you work at a large company with a 7x24 monitoring center, you can send alerts from your temp monitoring device via an industry-standard protocol to your central monitoring console. The console operator will then be able to receive high temp messages and dispatch the appropriate personnel.
If you're researching techniques for monitoring temp, it's likely that you need alerts for the times when you're not in the office. These can take a few forms:
Email alerts
SMS text message alerts
Voice alert calls to your phone
Mobile web interface for your smartphone
Look for a device for monitoring temp that is capable of handling at least 2 (preferably all) of these methods. That will give you flexibility when configuring.
Also important for automated temp notifications is the ability to create an escalation list. That way, if the first person to be notified fails to acknowledge the alert (effectively saying, "I'll take care of the problem") within a user specified period (say, 10 minutes), the second person on the list will be notified. This protects a single person who's too busy, too distracted, or too deeply asleep from allowing a temperature-related network failure.
Recommended Gear for Monitoring Temp: TempDefender IT

Back panel diagram of the TempDefender IT.
I recommend that you take a look at the TempDefender IT remote telemetry device for monitoring temperature at your facility. This is a compact, rack-mount piece of monitoring gear that supports 16 daisy-chained temp sensors. The total cable length can be hundreds of feet, so you can position sensors all around specific pieces of equipment that must be monitored. This helps you pinpoint problems and get detailed alert messages.